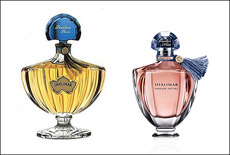 With all of the new, haute fragrances that hit the market each season, we have a natural tendency to focus on the newest scents on the shelves. However, it must not be forgotten that for many, classics such as Guerlain's Shalimar has remained one of the best selling perfumes of all times. It has been a favorite of so many since its inception in 1921.  The fragrance was created at a time when fascination with the orient was sweeping across Europe and was launched at the Decorative Arts Exhibition as an antidote against The Great Depression.
It only seems fitting that the perfume now comes in a lighter version.  Shalimar Parfum Initial has vanilla and rose just like the original, but added hints of fruit and caramel to give it a fresh kick. It has a feminine scent but not too girly or sophisticated. The new bottle is taller and sleeker than previous and is decorated with a blue tassel (of course, I love those tassels!) around its neck. Just proves that true staying power like this and a few select others that I'm sure that many of you could guess, can sustain for decades.
Shalimar Parfum Initial is available at Neiman Marcus and Saks. It's also interesting to see its re-birth popping up in many of the fashion magazines this summer into fall….it's back and better than ever.  So fitting with the return to femininity and dress-up that is dominant for the coming Fall Season.  Ladies will be ladies!
Available at www.neimanmarcus.com, www.saksfifthave.com/guerlain, www.guerlain.com.