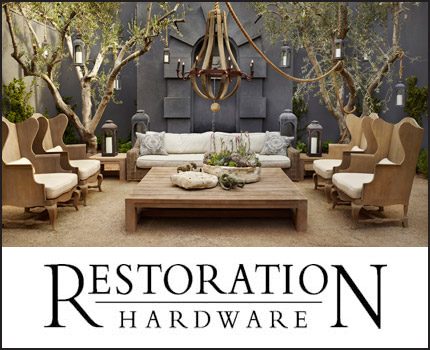 Restoration Hardware, a brand known for its luxurious home furnishings, has established a reputation for having a lavish supply of furniture, lighting, textiles, bathware, garden décor, and children's products. This luxury brand is opening its newest concept store in Houston and we could not be more delighted to have such a shopping mecca  in our fashionable town.
Opening on 11-11-11,  Houston will become the proud owner to this newly relocated and spectacular, 25,000 square ft. retail concept, the new Restoration Hardware store in Highland Village (4030 Westheimer Road) and its 2nd ever Baby and Child Gallery from Restoration Hardware immediately adjacent to the brand's flagship location (4018 Westheimer Road).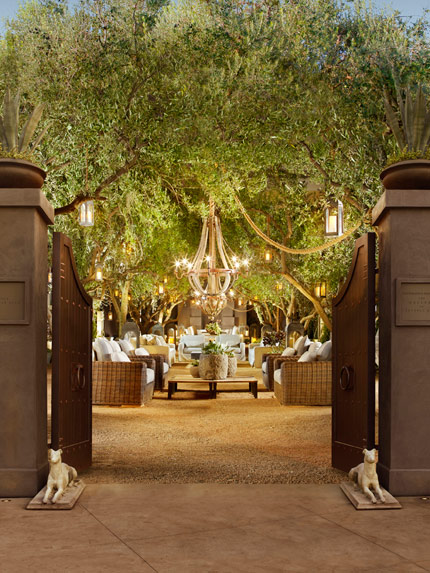 The store includes a Rooftop Garden and Conservatory, Bellocq Tea Atelier, Fresh Floral Boutique, by Houston's premiere floral designer David Brown, and an International Design Bibliotheque among other special amenities and additions.  Ultimately, the goal of Houston's Restoration Hardware is to inspire creativity and ideas for the visitors of the store as they shop throughout the many awesome offerings.
The list of Design contributors to this amazing concept, includes many of the Who's-Who of the Interior Design field. Houston's Restoration Hardware's lead designer was one of the top 100 architects in Architectural Digest, Howard Backen.  Backen, who teamed up with Chairman-CEO, Gary Friedman, and retail concept designer, Richard Altuna, strived to capture the feel of a majestic estate with a charming European feel.  In order to do this, the building incorporates European proportions, Venetian plaster, and a 3-level staircase that was inspired by a 20th-century Italian architect. All leading to a magnificent Rooftop Garden where Friedman reveals, "Our mission was to create a place that people can dream in…one that inspires creativity and ideas." There you can take in the majestic Houston view, relax under Olive Trees and enjoy a cup of Bellocq tea while browsing through design magazines and books from around the globe. Sounds so lovely that I can hardly wait to experience it in person!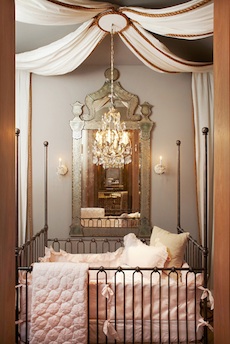 As for the Baby and Child Gallery, again, its second ever in RH brand history, Gary Friedman says, "This is just the beginning of [their] attempt to create a complete reconsideration of how people view nurseries and children's rooms."  Classic furnishings modeled after antique nods to Old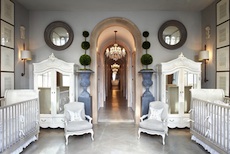 Europe. The plan is to use designs and certain styles that have never been used in childcare before.  Each collection will be presented as an installation and will in some form or fashion capture metal, leatherwork, or designs and in the case of bed linens, very much that feel from old Europe. To learn more about RH Baby and Child, click on to www.rhbabyandchild.com.
Restoration Hardware stores will be open Monday through Saturday from 10am to 8pm and also Sunday from 12pm until 6pm.  For more information on this exciting new addition to Houston, and to learn more about Restoration Hardware, visit: www.restorationhardware.com.