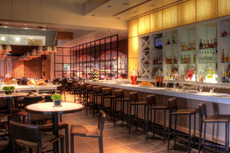 So maybe I don't get to NYC nearly as much as I used to and of course, I miss it.  I miss it a lot.  So when any part of the Big A. comes to town that I love, I want to be the first to try it and that I did when I was lucky enough to attend one of the tasting nights at the new Trattoria Il Mulino restaurant in the Memorial City Westin Hotel.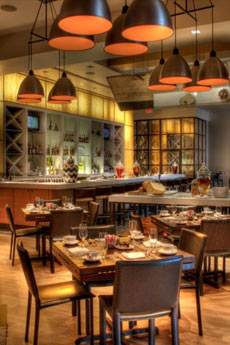 This off-shoot of the famous West Village Restaurant, which has always been one of my favorites, while very different in décor, in that it's much more modern than it's NYC parent, still had a very casual, warm feeling to it. The open bar, brick walls, exhibition kitchen and four private wine rooms add elements of elegant, contemporary Italian design.
I was very fortunate to meet one of the family members from New York, in for the opening, Executive Chef Michele Mazza. He was so charming and welcoming to us and took great pride in consulting with us on our ordering.  The Orecchiette pasta dish with crumbled Italian sausage that I ordered and split with my friend was to die for and an excellent compliment to my Veal Milanese. I know this was not the most creative dish I could have ordered but had remembered it as a fave of mine from the NY restaurant and it was as memorable here as there….both dishes, were delicioso!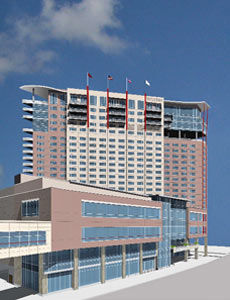 The closer for the evening was Grappa, a specialty of theirs and fave of my hubby's but for me, it was the Lemoncello, served at the table, iced to perfection in a copper bucket, surrounded by crushed ice.  Very iced Lemoncello was a perfect end to an amazing meal.
Tratoria Il Mulino also serves as the main restaurant, serving breakfast, lunch and dinner,  all seven days, to the new Westin Hotel that was also opening last week. This much anticipated opening was earlier than scheduled to allow the hotel to join the city's plans in welcoming NCAA basketball fans to town for the Final Four 2011. BTW, they were already sold out prior to opening!
This hotel offers sky bridge access to Memorial City Memorial Hermann Medical Center and Memorial City Mall and is adjacent to the Energy Corridor, Westchase District and Citycentre. This hotel, in addition to all of the traditional luxury Westin amenities, boasts Houston's only infinity pool on the hotel's 18th floor.
So, it's being said that our city is growing fast and it's growing west. Having said that these are now two more new additions that are certainly a reason to visit, even for us, inner city-ites!!!
Address:  945 Gessner@ I-10; Houston, Tx.  77024
www.ilmulino.com