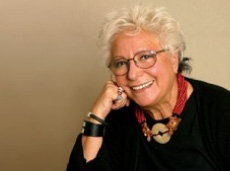 For anyone that knows me well, you know there are Caputi signature pieces of fashion jewelry that get a shout out or a comment for me every time I wear them. The questions are always the same, "love it, who makes it and where do you get it?" Well, the answer has been Angela Caputi and unfortunately, of late, there has been nowhere in H-town to buy it.
(Not to be a Florentine snob, but I did buy bags full, when I visited Florence, her home base, last Fall and suggest that you stop by one of her two stores if you should have that Italian city or Milan on your travel plans)
Well, there is good news to report here for my Caputi fans. She's back where she was first found by me at my friend, Betty Newton's a bientot, where I bought my first resin bangle, back at Betty and Cristiana's teeny-tiny little store on Welch. Well, the wheels have turned back again, as Betty has decided to purchase once again (with some nudging from me?!) and has just gotten in this week some great Caputti select pieces. You had better get there quickly if you're a fan as they came in Tuesday and are already blowing out the door.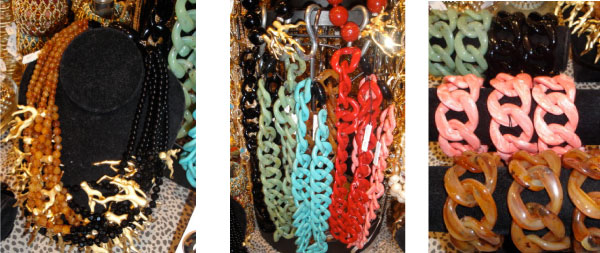 Her primary buy, which she has already placed re-orders on after their first day in store, are the colored link bracelets and necklaces that put Caputi on the map. I own RED in the bracelet and that was the first color to sell out. There is also a great turquoise, coral, tortoise, black and clear in both links and some lux gold coral and beaded necklaces as well, all at great prices and value, not to be believed.
While I had Betty's attention, I learned some of the ins and outs of what's happening at retail in the accessory world. The most notable new idea that she enlightened me on was that real printed scarves are very popular again with consumers.  We are talking squares, ala Hermes in feel, are back in a big way. We have been living in a long, skinny scarf and pashmina world for several seasons now but the tide has turned somewhat and women are once again liking the large square print scarf and the darling girls at a bientot have many different ways they have created to wear them. Just stop by and have them show you their "how-to's" on adding these classic scarves back in to your wardrobes. Lots of colored enamel jewelry, quilted bags, gold chains…all indications that the return to classics is continuing.
However, for the hot button of the moment, Angela Caputi, is back in Houston and can be found at a bientot. But hurry in, this order won't be there for long but Betty's on it and promises that more is already on the way!