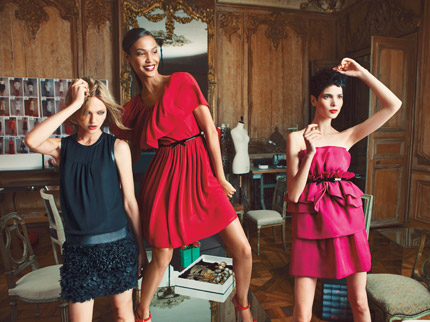 Maybe you've had dreams of becoming a "Valli" girl.  Or perhaps, you've already started looking for this year's perfect holiday outfit.  Well, look no further because we've got news on some chic winter trends for all of you "Impulse" shoppers.  This collection will surely allow your "Valli" girl dreams to come true.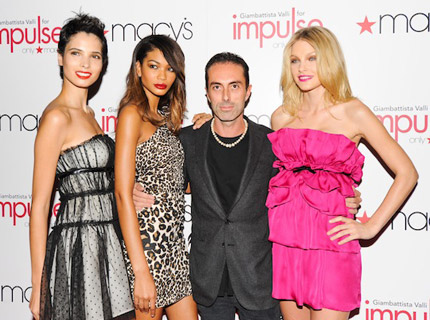 Giambattista Valli, one of Macy's "Impulse" designers, launched his exclusive line on October 26.  The line, which is part of the 2011 Capsule Collection, offers great designs, reasonable prices, and luckily, can be found online (macys.com) and at 225 select Macy's stores.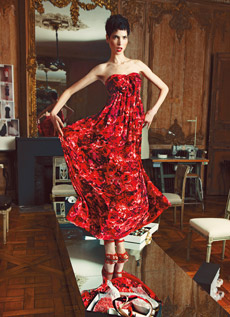 Giambattista Valli's collections, which are heavily influenced by Paris, his passions, and his heritage, offer an assortment of style options: "cocktail dresses, flirty skirts, feminine blouses, lightweight jackets, edgy pants, and graphic t-shirts."  With these elegant and chic designs, he has fused together feminine fabrics (lace, tweed, brocade, faux fur, point d'esprit tulle), bold prints, and captivating colors (red and black with gold, grey and fuscia).
This collection "reflects [Valli's] enduring loves, but is really a celebration of [his] biggest inspiration of all- the energy and vitality of women themselves."  Valli states that he "love[s] dressing [women] for all their happiest moments, making them feel as special as possible."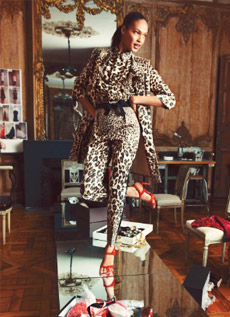 This specific collection, like most of Giambattista Valli's, is heavily influenced by his heritage and his passion for all things French.  Valli, who was born and raised in Rome, has found his inspiration through French fashion, Yves Saint Laurent's watercolors, and his time studying under other famous designers.  Today however, Giambattista Valli serves as his own inspiration for aspiring designers.  His name grew as he studied under Roberto Capucci, became a senior designer for Fendi's Fendissime collection, and especially when he went solo in 2005 to launch his own collection.
To learn more about Giambattista Valli's collection at Macy's, visit www.macys.com .