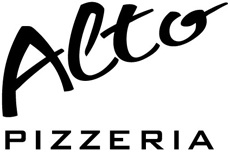 Pizzeria Alto, the newest of Schiller-Del Grande's urban chic restaurant duo in West Ave. has opened, and I have already got my favorites after many dining trips there, from their selection of designer pizzas.  Being a creature of habit if I love something, I already have a new favorite food addiction at this restaurant. The gorgonzola and white cheese pizza, with a bed of bitter arugula, contrasted by the sweetness of mission figs, is the first thing I order upon arrival. These pizzas and delectable shareables have been created by Chef Robert Del Grande in his 2 ½ ton, gold tiled, gas-fired stone pizza oven like the ones I just recently saw in bakeries and pizzerias all over Italy.  This oven serves as the centerpiece of this beautifully lit second-floor eatery.
Two other favorites of mine were the fresh mussels tossed with fennel and clams in a broth of lemon juice, chilies (definitely has some bite!) and olive oil…ever so tasty. Of course, on the yummy side, the donuts made from sourdough pizza dough, dunked in Nutella are, for me, just the right amount of sweetness to end this amazing meal. All of this was recently tested by a joint visit to Alto with our young visitor from Italy and Pietro gave it all a big thumbs up…restaurant and it's food, and could have stayed and eaten just margarita pizza and donuts with Nutella all evening.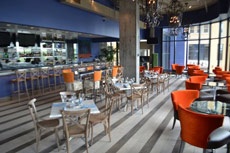 Alto, a casual setting offers many choices of creative and traditional pizzas, pastas, salads and sandwiches.  All served with a beverage choice from their wide selection of beers and moderately priced wines. Makes for a great place to meet up with friends and family, watch a game on its many flat screen TVs or just drop in for a late night drink…the hours are later here than for its downstairs, sister restaurant, Ava.
Not to go without mentioning Ava Kitchen and Whiskey Bar downstairs, the other half of this Mediterranean duo from Schiller Del Grande Restaurant Group, established a few months ago, is a modern version of an old-world setting in a large sexy space that is both comfy with its well-positioned couches and modern with its zinc top tables.  The feel here is totally urban with its glass windows that over look the boulevard, which happens to be Kirby and gives you a great "not-in-Houston" feeling! (not that being here is a bad place to be these days?!)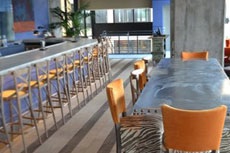 So much of what I love about these two restaurants are certainly the food choices but also the amazing job that Candi Schiller did on the décor. All furniture pieces and awesome lighting touches are unique, stand-alone pieces that I would love to own in my own home. I am so influenced by my surroundings, so the great vibe that all of this gives out does a great job of satisfying ALL of my senses!
Alto does not take reservations, but they are masters at getting you seated quickly! Reservations do help at Ava.
Details on both Alto and Ava are…
2800 Kirby Ave.
713-386-6460