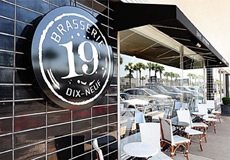 Looking for a touch of Paris, Gulf Coast style?  If you haven't been to River Oaks Shopping Center's newest restaurant, Brasserie 19, now is the time to go! Restaurateurs Charles Clark and Grant Cooper – Clark Cooper Concepts opened the doors of their newest restaurant on May 4, 2011, in the space previously occupied by Tony Mandola's Gulf Coast Kitchen on West Gray. Brasserie 19, named for its River Oaks zip code, is Clark Cooper Concepts fourth concept, following the successes of Ibiza Food and Wine Bar, Ibiza Next Door and Catalan Food and Wine.
Brasserie 19 follows the ground breaking wine philosophy pioneered by Clark Cooper Concepts under the direction of managing partner Shawn Virene, known for his intuitive sense for wine pairings, with a creative and extensive wine list. Of course, in true brasserie fashion, more than 30 unique craft beers are available, with a revolving beer offered on tap.
The sophisticated yet comfortable, fresh white interiors designed by Julie McGarr for Brasserie 19 has a welcoming ambiance. A modern, clean interpretation of classic brasserie style gives a very welcoming appearance, filled with comfortable yet classic brasserie chairs and an outdoor patio for those looking for a Parisian style bistro experience.
Brasserie 19 is open 7 days a week serving lunch, brunch and dinner. The hours are: Lunch- Monday- Saturday 11am – 4pm; Brunch: Sundays 10am – 4pm; Dinner: Monday- Thursday 4pm – 10pm; Friday and Saturday 4pm – 11pm; Sunday 4pm – 9pm. Reservations are recommended, particularly on Friday and Saturday nights. http://www.brasserie19.com