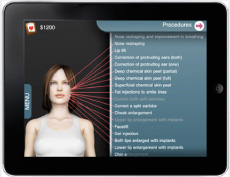 Have you ever thought about having cosmetic surgery or Intense Pulse Light (IPL) laser treatments, but were unsure about the cost or what is available in the way of the latest techniques? Whether you are interested in Botox, breast augmentation, rhinoplasty, laser hair removal or various other procedures, now you can have all of your questions answered within the privacy of your own home, and on your phone, no less. All of this information can be found on the BuildMyBod smartphone app, easy to download to your iPhone, iPad or iPod Touch.
Developed by Dr. Jonathan Kaplan, the concept for this informational product came about when Dr. Kaplan saw a need within his own office – potential patients would call to ask for pricing, but often times, as with any surgeon's office, the quote would only include the doctor's fees and not the implant fees, operating room fees, etc. With the BuildMyBod app, you will receive an all-inclusive quote. Says Kaplan, "This is first time this have ever been available. This app gives you an accurate estimate and not just a price range."
Simply type in your zip code to find a participating doctor in your area and then scroll up and down the full body image for a list of IPL treatments and cosmetic enhancements. Click on the area(s) of the body in which you are interested, and a description will be given to you in layman's terms. Best of all, the app is free to download.

Once you've chosen a procedure(s) and filled in your contact information, an itemized summary with an precise billing quote will be emailed to you as well as the doctor's office for follow up. Thus far, several enthusiastic physicians are on board, including Dr. Paul Gill in the Houston area, with several more in the works. Even if there is not yet a participating doctor in your area, the BuildMyBod app can help you learn about various procedures, give you a clear-cut idea of going rates and help you make the decision to move forward or not. Let the BuildMyBod app do the work for you!