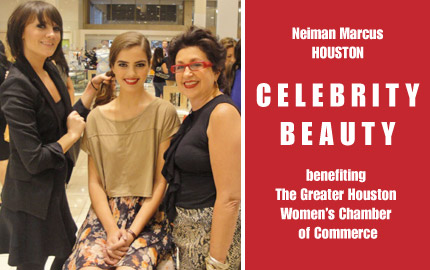 Hey, maybe I could be a celebrity if someone would guarantee me that I would have as much fun as I did the night I was so graciously asked to be one of Ten Celebrity Makeup Artists at Neiman Marcus Beauty Week.  I had my own personal photographer, no paparazzi to deal with, a talented makeup artist, Sara Murphy, doing all of my hand-work at my chosen counter which happened to be Laura Mercier (we all chose one line to represent), who applied the look I wanted to achieve, Red Lips and Smokey Eyes for me on a professional model. Mine was Kaitlin and not only was this young lady a gorgeous face, she got to wear the most beautiful dress in the show, a RED Tom Ford drop-dead rusched sheer that was off-the-charts. I felt I was due extra points just for that dress!
The beauty of this event was that after makeup was done as directed by each of us, the models strutted the runway while we described our beauty look.  Votes were then taken at the counters and the winner was given a scholarship in her name to educate young students….the entire evening was a win, win, win for all!
Celebrity stylists were: Philamena Baird (our very deserving winner), Roz Pactor (whose Red Lipped beauty came in second….I was so proud, thank you Sara and Kaitlin), Ceron, Carolyn Farb, Mirror, Mirror's Rebecca Spera, Tidbits' Allison Bagley, Ursaline Hamilton, Chronicle's Lindsey Love, and the darling 002 Magazine sisters, Carla and Beatrice Valencia.
Below are some photos that capture the essence of the evening. If you click on to www.thechicsheet.com/chichappenings you will see more photos of this very clever, very fun and very productive evening (all ticket sales went to GHWCC and beauty sales for Neiman's, we definitely shopped!).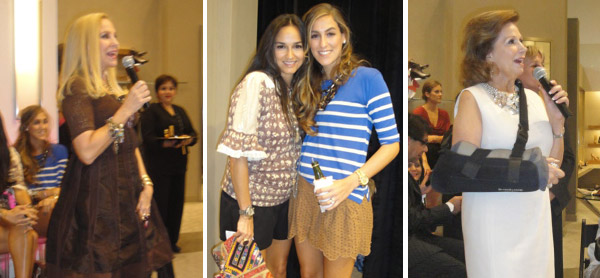 Carolyn Farb, whose beauty line was Chanel and model dressed very Chanel, both looked beautiful. For Carla and Beatrice Valencia, they presented their very well-thought out story board that took the beauty down to the nail choice and looked very hip.  Philamena Baird, was the winner and she proved she could do great work with only one functioning arm, just kidding!

Ceron, for YSL went for drama, of course, even down to the leopard jumpsuit on the model. Next Stacey Swift from Neiman's who put the concept and the people together with just a few of her girls!  Chronicle's Lindsey Love very descriptive of her understated look.

A sampling of the crowd with President of GHWCC, Suzan Deison and Chairman of the Board, Leisa Holland-Nelson.  The runway of absolutely gorgeous beauty models in drop dead Neiman's Fall Fashions (Of course,  my red Tom Ford dress rocked!!!)  Three very important visitors that came to cheer me on as I directed my red lipped gal, Daniel Barrett, Crystin Pactor and Alan Pactor.