What brought recently wed, Lauren Bush-Lauren home to Houston?  She was here, along with Judith Leiber Brand President, Mary Gleason to share with Neiman Marcus customers her newest FEED Bag collaboration with the iconic handbag line.  Quite an odd pairing I thought, and asked the ladies together how it all came to be?  Mary mentioned that Lauren, who along with her hubby David Lauren, son of Fashion Mogul, Ralph Lauren, were often seen out in New York City's social scene.  Lauren, smart businesswoman and promoter of her brand, consistently arrived at Galas, wearing stunning evening gowns and carrying one of her many large FEED Bags on her arm.  Well, the Leiber folks noticed this and put their best creative team together to find just the right way to blend Leiber bags, the end-all of evening handbags, with the FEED Bag.
THE LEIBER FEED BAG: What a WIN this is for everyone. The end result, however unlikely, one would think, is a very tasteful small cocktail bag collection of three bags of natural linen blended with metallic thread and a touch  of beading (Black is exclusive to Neiman Marcus alone).   The very good news about this bag, priced at $450, a price-point unheard of in the Leiber family of bags, makes for a greatly affordable, Leiber FEED Bag, that can be attained by many ladies of all ages, worn for cocktails or with jeans, knowing that each bag purchased, $250 of which goes directly to FEED Bags, will feed 1,000 meals for children.  Can't get much better than that.  What a chic and fashionable way to do good for a very proven cause.
Of course, a homecoming for Lauren is always a mixture of business with some catch-up socializing with her many good friends and family that have supported her and her cause over the years.  Last Friday was no exception.  The luncheon, frenzy of bag purchasing and photos with the new bride, made for a fun time for all of the gatherers in Neiman Marcus Handbag Dept. that came to share in her newest venture and see the newest that the Judith Leiber collection had to offer.
THE WEDDING: Of course, wedding questions had to be asked! The first question Lauren is asked the most, "what was it like collaborating with future father-in-law and fashion giant, Ralph Lauren on "The Dress"?  She said they had an initial meeting/chat where she talked about the kind of wedding that she and David had envisioned (a Western Union as penned by December Vogue) and what she had in her mind as an appropriate look for that theme, the retro feel and the ranch setting but that would still be right for her and her style.   She said they met several times along the way and the end result was a beautifully hand embroidered ivory colored gown that was just perfect!  After reading the Vogue article and all the fun activities that occurred at this small, intimate gathering of closest family and friends,  I asked her to explain her wedding time and she said  "it was the most fun she has ever had!!"  That is what it's supposed to be, of course!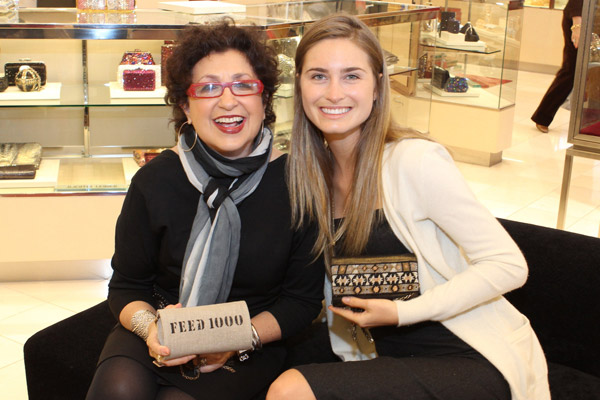 FEED PROJECTS:  Lastly, just in case you are not as familiar with FEED that started as a school project in college for Lauren, it's very interesting.  Here are the cliff notes…Lauren was part of a group of students that the U.N. sent to 10 countries to learn about the children and be a spokesperson for how to help these children get the nutrition they needed to improve all aspects of their lives.  After returning to the states, she had so many students interested in helping these kids that she was driven to come up with this creative idea that through affordable purchasing of these bags, she could actually calculate how many meals she could provide for these kids.  The idea took off in a big way when Whole Foods was first to support the idea and the rest is history.  Now many brands have joined on and the options are widely varied.  To view all of Lauren's many FEED Bag collaborations, visit http://www.feedprojects.com and see all the ways your purchases can make a difference.
If you haven't purchased any of the many choices of FEED bags, here's a thought….makes for a great Holiday Gift!  I've given them, they are very well received and appreciated.  The Judith Leiber gift could not be better.  All of these bags have become Chic to wear and do much good at the same time.