by Marcy DeLuna

Everyone is buzzing about The Houston Livestock Show and Rodeo – not only about the live entertainment acts and the World's Championship Bar-B-Que Contest, but also about the fashion. Looking for that perfect outfit to wear to Reliant this year? You will find everything you need at TheWesternVault.com.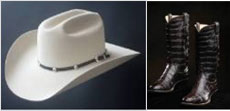 Founded in 2010 by Linda Galayda and Ginger Wheless, the concept for TheWesternVault.com came about as Galayda and Wheless took notice of the number of inquiries they received regarding their savvy rodeo wear. Says Galayda, "People often don't know where to go to find western fashion pieces, etc. They simply needed advice on where to shop for stylish attire." Galayda's successful run as a fashion merchandiser for Foley's Department Store plus her family's roots in the ranching industry (she delivered a calf just prior to our conversation) combined with Wheless' background as the owner and editor of Red News Magazine, have been instrumental to the site's growing popularity and success. This on-line store showcases apparel from such heavy hitters as M.L Leddy's, Pinto Ranch, Ranch at the Rim and Madole Spurs to name a few.
But there is more.  You will also find listings for western-living real estate and horse trainers and clinicians. TheWesternVault.com is the place to go for one-stop shopping. Additionally, the site presents consumers with a calendar of events and an informational blog.  Galayda sums it up best by saying, "TheWesternVault.com offers the best in all things western."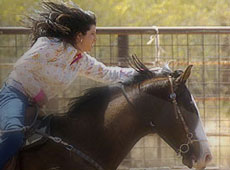 For all of you western enthusiasts out there, visit www.TheWesternVault.com for all of your rodeo needs!