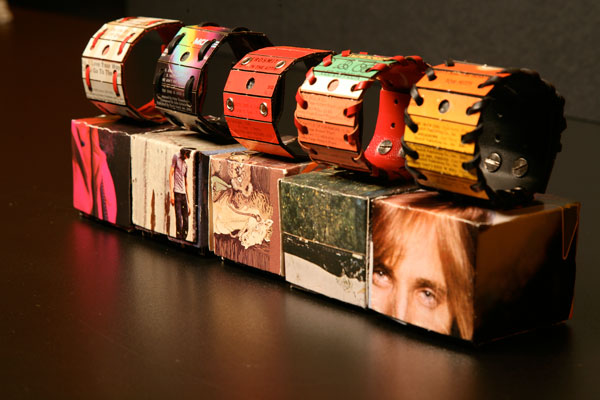 I'm on to a new fashion item and it's available exclusively at TOOTSIES.  It involves Carly Simon, Carole King, Billy Joel, Donna Summer, Bob Dylan, Alabama, Karen Carpenter, The Eagles and many, many more.  Okay, so it has a vintage feel.  What could it be?  You would never guess, but they are adorable.
For those of you that used to buy CDs and think they are passé. Think about vinyl records, have any of those?  Well, right here in Houston, they are being recycled from the many artists mentioned above in to very fun Lo-Fi Vinyl Cuffs and being sold only at Tootsies for $75.
These recycled record cuffs are quality hand-crafted and made from recycled records and genuine leather. In reality, vinyl records, which I hear are having a resurgence, are being produced here in Houston every day and a large portion are being custom-made into fashion cuffs.  The packaging, an extra cool add-on, are boxes made from recycled Album covers.
This item was introduced in New Orleans at the VooDoo Festival and of the 1,000 produced for that event, over 700 were sold.  This began the frenzy that has become this bracelet trend.  Everyone from Baby Boomers to current Hipsters are loving them and the customization is endless right here in our own backyard. You can find your favorite song from your favorite artist and make it a fashion statement on your wrist.  For me, it was to pick a fave, but  "Close to You" by Karen Carpenter was it…oh how I loved that tune!
To learn more about these styles and all that are available, visit Tootsies location and/or the website, www.low-fivinyl.com or their Facebook page.