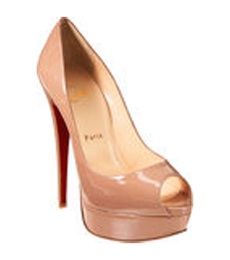 If you are a fashion or celebrity magazine reader, you've surely noticed that the hot shoe of the season is the platform pump and once again, the go-with –everything color is NUDE!  Dare I say that word? I have been corrected before that the appropriate descriptive for this color is NATURAL…that would be neutral, sand, etc.  Call it what you will, it's refreshing to see that it's now fashion-ably acceptable to wear this light color patent leather shoe with a dark colored dress. L.B.D.'s with natural colored shoes definitely can make the outfit look and feel fresh!
We all love those must have accessory items that can go with any outfit, all year round and ease the transition from season to season. I was pleasantly surprised to see that patent leather shoes, always undoubtedly a spring favorite, are on many of the Runways for Fall.

So, go ahead and splurge on those natural patent pumps from the designer guys and gals. Patent leather is a great shoe investment because it will still be hot next fall and like so many other fashion staples have become a year round look. Newest in Neutral, safest in Black or Navy, or hottest in shades of Red, Orange, Pink or Blue. All will translate into Fall very well.  You can go subtle with classics or take it to the next level with a fun fashion color…a little shine below the ankles always can be counted on to spruce up your wardrobe!