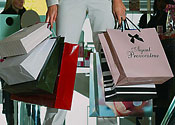 It's hard to believe that after sooo many years in Retailing, when I would leave my family all comfy at home to go to work for BLACK FRIDAY……and after swearing since then, that at home on this day is where I would be staying now, just because I CAN, I realize that during THESE TIMES, I need to SHOP SMART………so, I'm sharing with you some of the great ways YOU, Samantha and I can spend that day joining the SHOPPING frenzy!
If you want to walk off that lavish meal, have a heart for adventure and a desire to remain CHIC, then please check out some of the following great deals that will be available to you for the coming week-end from many of our FFRF's (Favorite Fashion Retail Friends).
1. First…..NEIMAN MARCUS.,is running their storewide Designer Sale with savings up to 40% off now through the week-end and as a special treat……..this Friday, pet lovers prepare to lose your heart….yes, they will be opening their annual special SPCA windows with all of those adorable pets longing for you to ADOPT them and take them HOME FOR THE HOLIDAYS!
2. At TOOTSIES it's their OMG……IT'S 50% OFF DESIGNER SALE….many great CHIC FINDS from all the right designers for you there!
3. At BB1……..if venturing away from home is not for you……..just go towww.bb1classic.com where they will be launching their brand new website on Thanksgiving Day. If you visit online, it's a 20% credit back to your card and a complimentary gift is waiting for your very first online purchase!
SPECIAL BB1 treat for THECHICSHEET BLOGGERS……..mention Chicsheet in store and receive 50% off storewide for Friday, Saturday, Sunday……..11/28-11/30. Thanks Callie!
4. COTTON CLUB is offering "The Too Good To Be True" After-Thanksgiving Event……Friday and Saturday only……Diamonds anyone? Not your thing……how about a Cotton Club Gift Card? Both yours with a $1,000 purchase…….for details click here!
5.MORE THAN YOU CAN IMAGINE's Vicki Rizzo wants to offer you a chance to celebrate Thanksgiving savings with her, ALL WEEK long…..click here… and you'll see the surprises in store for you……..discounts will change daily! If you're away this week……munching your turkey in another locale, then drop by MTYCI on Tuesday evening, December 2 from 6:30 till 10:00 for special shopping, special discounts (10%), spirits and all benefitting Girls and Boys Harbor.
6. At MUSE, they are having a "THANKFUL FOR OUR CUSTOMERS SALE" with Holiday Attire, Office Gifts, Stocking Stuffers and other "perfectly unique" gifts for that special person……….with almost everything in the store 20% off Tues. thru Saturday of this week…….please check out www.musehouston.com for more specifics!
7. New Jewelry Designer, Marie Duncan for Pomp and Circumstance wants all to know that if you make a cyber-trip to her website, all of her modern, affordably chic jewelry offerings are available online for 10-30% off for this week-end. Check outwww.pompandcircumstanceonline.com.
FROM AUSTIN…………
8. From our favorite Texas sister-city………OH BABY!/OHBABYAUSTIN.COM,the chic boutique on Bee Caves, has some on-line specials for our Holiday Kick-off………featuring their luscious Robes, Special "It's in the Bag" off any Women's "Bag & Gear" purchase and $10 off Coupons on purchases over $25…….. makes shopping with these ladies FUN, CHIC and SMART!
9. The popular 2nd STREET DISTRICT store SHIKI is now online,www.shopshiki.com. Take 20% off all regularly priced bags, belts, scarves and jewels, November 28-30.
10. Last but NOT LEAST……take advantage of ADELANTE'S annual After Thanksgiving Sale this Friday and Saturday. Fall fashions will be marked down 30-50%………plus complimentary gift-wrap!
Enjoy…………..Happy Thanksgiving to all!