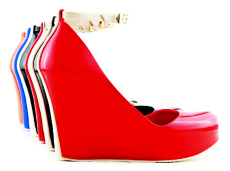 Making the right ecological choices is at the heart of what the modern woman is about today.  SUSTAINABLE FASHION is the buzz word of the time for all categories of fashion.  In footwear, the Brazilian shoe manufacturer, Melissa, has taken a unique approach and I've already become a loyal purchaser.  First at Muse this Spring (metallic cut out flats I wore every day) and now at Lenny & Cia at Uptown Park, where the assortment is awesome. I couldn't resist a Vivienne Westwood grey sling-back heeled shoe with over-sized gold balls, a true conversation piece whenever I wear them!
I love what this brand, Melissa Shoe, stands for. "Passionate living", as they say on their site is about women looking beautiful, feeling fabulous, expressing their individuality and making the right ecological choices…all while adorned in high fashion footwear.
This brand has literally walked its way into the hearts of women all over the world, and have developed true works of art in their footwear. They have done this by approaching many of the best names in the contemporary fashion, art and design worlds, such as Jean Paul Gaultier, Vivien Westwood, Alexander Herchcovitch and Zafia Hadid.
Lenny & Cia, in Uptown Park, are most thrilled to be one of five locations, including the likes of Corso Como in Milan (my favorite store in the world!), Selfridge in London, and a shoe store in Miami to be hosting the world debut of Melissa's newest shoe designs by Italian architect, Gaetano Pesce.
Not to continue to name drop here, but Melissa has also become a favorite with celebrities.  Kate Moss has become the luxury marketing face of this line and Melissa's have been viewed on the feet of Anne Hathaway, Cate Blanchett, Alicia Silverstone and Kate Perry among others…after all Red Carpets can be tough on the footsies and comfortable fashion is a life-saver for these glam gals as well as any modern woman who spends tireless hours on their feet meeting their busy schedules.
These shoes must be seen to believe. Prices are very affordable for the shoe world these days…all under $260, flats in the $100 range.   I have selected a few examples to show here, but there are many, many more and once you have tried them on and feel how comfortable, even the heeled shoes can be, and how chic these art-ful shoes make you look, you will be hooked, like me!
Exclusive Preview Event details:
Gaetano Pesce + Melissa Shoe – Worldwide Debut
Houston, Miami, London, Milan
Lenny & Cia, Uptown Park
Saturday, December 4th – 12-4 p.m.
Cappucino Bar with Master Barista
Rsvp: 713-840-1777