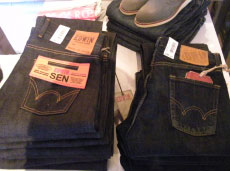 During my recent visit to 310 Rosemont, I was elated to find another denim line that I wore and loved a while back. In fact, I must say that they were the first pair of designer jeans that I ever purchased, at Fred Segal in L.A. and then later could be found at Tootsies here… Edwin Jeans!
That's the good news, that they are back and can be found here in H-town. The not so good news for me was that they are only currently being made for guys, but there is a promise of a women's line to follow and I can't wait!
Edwin Jeans, manufactured in Japan, are known for their famous signature orange stitching and were such faves of mine that I literally wore them out, if that is possible to say about denim?!
So fellas, or ladies shopping for your man, stop in and have a fit, you'll love them I know. They look great and again, can only be found at 310 Rosemont.