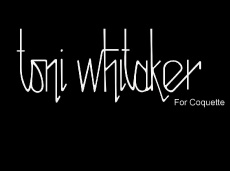 For many of us on the Houston Fashion scene, the name Toni Whitaker has a  familiar ring. She has had many fans, such as myself, that remember her high-fashion, one-of-a-kind designs, made for many of Houston's Best Dressed Ladies for two decades.  Toni spent many a year in the Rice Village. She then ventured over a few blocks to the nearby, lower-key, off-Kirby neighborhood of the ever-so-creative types in fashion, art and home design.  However, Toni has shuttered her latest studio and has begun a collaboration with Aries Milan, owner of Coquette Boutique on the lower Westheimer strip.  This year-old clothing store has had a great year of success carrying many sought after designers and accessories, for the style-minded individual, that are rarely found in Houston.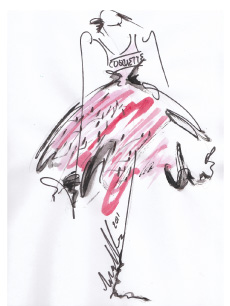 The result of this collaboration is Toni like you've never seen her before! The Toni Whitaker who built her brand over 20 years of designing one-of-a-kind, custom-ordered, original creations for her many customers, has stepped out of her former comfort zone.  She is working with Aries to attract a younger customer and is making party, flirty clothing that has lots of pizzazz and can be bought off the rack, if you can imagine that.  Whitaker will be working out of her home and in the back room of Coquette with materials and a sewing machine on sight. The result, such fun looks as bold-colored feather skirts, fresh crisp white cowl neck tops, jumpers and more.
All of this new collection will be available at the Spring collaborative launch Fashion Show and Party, hosted by Coquette on February 9 at America's West Gray from 6-9 p.m. The Toni Whitaker for Coquette Collection will be previewed here for the very first time.
For details on this event, please go to the Coquette Facebook page.
If you should venture into Coquette, you will find some other very popular collections, including Houston's own Bullet Girl designs, Sass & Bide, Camilla Frank from Australia and other collections not found in other H-town boutiques.
For those of us that are Toni followers, it's nice to know, she hasn't gone away but is, in reality more accessible than ever!