I always had a theory from my many years of shopping fashion markets, showrooms, etc., with Buyers, as a Fashion Director…if you don't remember it later, you shouldn't buy it.  Well, this fashion apparel collection of Herff-Christiansen is a perfect example of how long I can remember what I saw and still want to have it!  I first saw this collection by this talented duo from Austin, over two years ago at Chelsea Dryer's The Find, loved the collection and have wanted to tell my readers about it ever since. So I may not be the fastest draw in the South, it's taken me awhile, but that's a good thing as this line has only gotten stronger.
Actually, the timing could not be better, as summer is upon us and this fashion knit-based collection of accessibly luxurious (most items under $200) and sophisticated basics that layer well, make perfect travel wear for all of you that are hitting the highways and skyways as we speak. What is even better, just in case I missed your departure from the heat of H-town, is that this line is available in boutiques in many of the cities/towns that you may be visiting or call your summer-homes (list of stores/towns to follow).
A little about the designers that I found so interesting is that they come from different backgrounds…one, a Texan and the other from Denmark. They met doing their post-graduate work at UT, became fast friends, re-united in NYC, entered the same field, Beauty, both working for Estee Lauder, when they decided to collaborate on what they saw as a void in the market place.  Their niche was to be highly fashionable and sophisticated, yet comfy knits that were over-the-top in styling but not in price.  They started their business on one top…a French terry, rusched long tank that sold like it was golden and upon that item a collection has been built.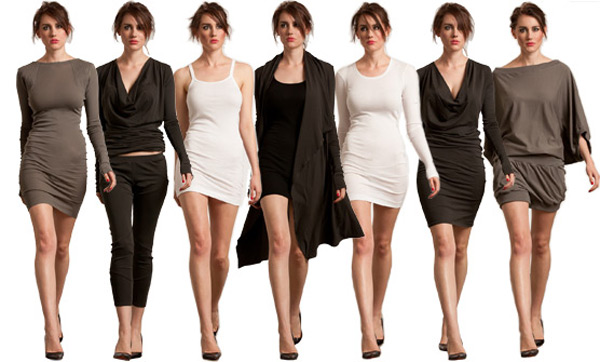 In my interview with co-founder, Mary Herff, she explained their concept as "high design, architectural-influenced styling, accessible luxury, quality fabrics, that is clean, simple and sophisticated." Colors are neutrals that work well tonally or popped with white. They do two collections a year (Spring/Summer and Fall/Winter), built on pieces such as ribbed tanks/tops, leggings and novelty over-pinnings that carry over from season to season so that the consumer can build on and layer-up. Newest additions have been some great Dresses that work as a layering piece with the collection. Fabrics are carefully selected in light-weight Cottons and French Terry and are all washable, easy to care for and fold and pack well…a definite plus for traveling.
They can be found in 25+ high-end boutiques across America, Europe and the Far East, plus most styles can be purchased on their website from your home computer.  Here is a select listing of many of the boutiques where you may live or may be traveling to, that carry this collection. Please check their site, http://www.herffchristiansen.com for more locations.
| | | | |
| --- | --- | --- | --- |
| Houston: | Abejas | La Jolla: | Laura Gambucci |
| Austin: | by George | Sonoma: | The Loop |
| Dallas: | Forty-Five Ten | Miami Beach: | Ease on Sunset |
| San Antonio: | Penny Lane | Vancouver: | Moule |
| Aspen: | Max's | NYC: | 25 Park |
| Malibu: | 25 Park | Paris, France: | Le66 |
| Venice, CA: | Salt | Plus more! | |
I hope you will like this line as much as I do, but please, don't do as I and wait two years to give it a try!  Enjoy!