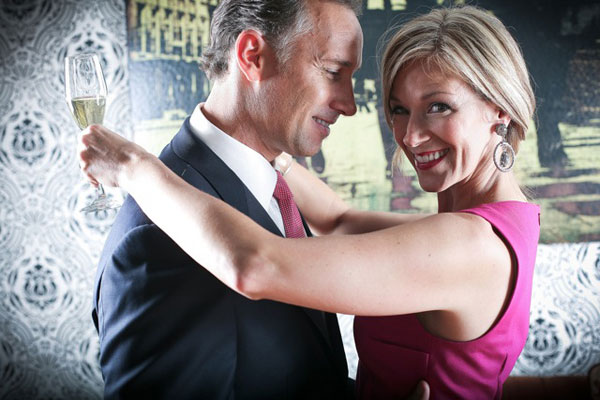 For any of you unfamiliar with Dentiq Dental Center, I can best describe it as a dental center that feels more like a visit to a luxury Spa than to the Dentist's office.  This one-of-a-kind comprehensive dental practice, known for its luxury brand of dental health care, is offering special VIP treatment for its patients during the month of February.  Keeping in the spirit of the month, they have called their promotion,  "Lust What You See", focused on promoting healthy, beautiful smiles.
During February, Valentine month, Dentiq will offer "sweetheart" tours of the practice with special emphasis on their new VIP club-level lounge. Guests are invited to sip on champagne, nosh on strawberries (that I never knew were a natural teeth whitener), and get a sneak peek of Dentiq's private Sweet Suite.
The Dentiq Deal for February will offer patients a Sweetheart Smile gift package that consists of two-for-one whitening treatments, a full clinical analysis for each patient, and other sweet perks…what could be better than the gift of a beautiful smile for this holiday of love and happiness?  To sweeten the deal even further, Dentiq will send the duo home with a bottle of bubbly or wine to enjoy later. Also, to show their commitment, they are also offering patients a 360 degree, 3-D scan experience to ensure that a comprehensive dental health review is provided as well as all of the cosmetics, offered especially for the holiday.
What is Dentiq Dentistry:  "It is a team of 20 professionals that focus year-round on providing healthy, beautiful smiles for our patients," says Dr. Barbara Johnson, Dentiq's primary dentist. Dentiq Dentistry is a comprehensive dental practice that offers complete dental health and cosmetic services in a luxury setting.  Crystal chandeliers, gracious hostesses, stocked lounges and comfortable and inviting furnishings and artwork make the experience truly unique.
To book the February "Sweetheart Smile" special or a complimentary VIP tour (it must be seen!) and analysis, call Dentiq at 713-526-2904 or visit Dentiq-Dentistry.com.  You are in for a very different and pleasant experience.