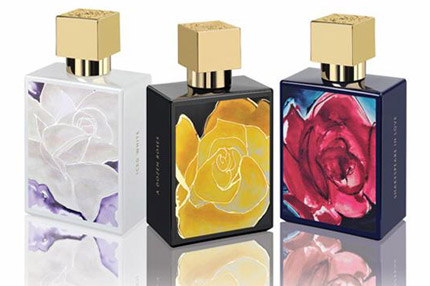 This collection of fragrances, recently launched exclusively in July at select Neiman Marcus and Bergdorf stores and online, was developed by two veteran Beauty industry professionals, and is inspired by the emotions that only a rose evokes.  A DOZEN ROSES, modern, eclectic and sexy, is a collection of fragrances, created by collectors, inspired by a passion for art, perfumery and unique bottle design…all dedicated to the one flower that has inspired artists, poets and designers for years.
These fragrances, the first three of their expanding collection utilizes roses in a modern unique way, and are not at all your Grandmother's rose water.  The creators began this process by giving true perfumers free reign to create each fragrance, in an artisan way, inspired by original artwork (created by one of the partners to pay homage to the beauty of each rose) and the emotion of roses themselves.
The end result is their first three fragrances, each a unique scent, played off of the name and type of rose, that addresses three choices for three type of women. When I asked co-founder, Sandy Cataldo, why three? her response was that "to test their concept they felt they needed to give all women a choice, not just one fragrance that they may feel works or doesn't work for them. Hence, one of the three is a guarantee to reach most women out there."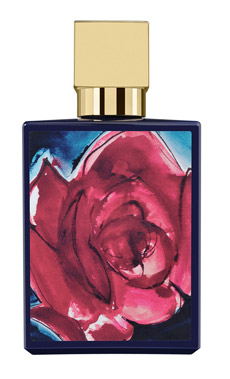 First is SHAKESPEARE IN LOVE, meant for the sweet, down to earth lady. She drinks red wine, lives in cashmere sweaters and enjoys staying in on weekends. For her, a nice fruity smell is combined with Damask essence.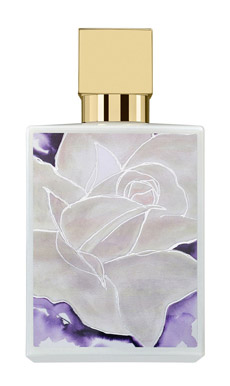 Second is ICED WHITE, created for the cool, natural gal. She drinks gin and tonics, dresses simply in white cotton and enjoys spending time outside. This fragrance is a mix of white on white; white peony, with primrose and osmanthus that cools down with vanilla & white musk plus their signature, Rose Absolut.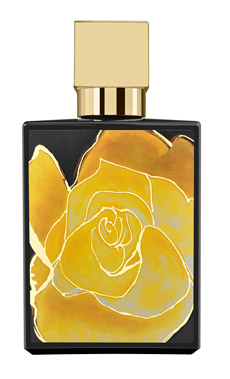 Lastly, is GOLD RUSH, meant for the wildly confident gal. She drinks tequila and spends her weekends at cocktail parties. For her a scent that is a rush of ecstacy, sexiness, and richness.  This is not about a dewy morning but a sweet and spicy character that works best for romantic nights. The scent combines blackberry, neroli and ylang ylang layered with the richness of chocolate and ebony woods. Of course the aura of the gold rush rose, is wrapped with their own Rose Absolut….a staple, is a part of all of their fragrances.
If the fragrance alone is not enough to bring you to a decision among these options, and you, like me,  love a beautiful bottle, the original artwork of each bottle will win you over as a potential collectible for your dressing table.
ABOUT THE CREATORS:  360 degrees is a brand and business development company, founded by two successful beauty executives, Sandy Cataldo and Lynn Welch Emmolo. One an artist and another a passionate fragrance collector. For years, these ladies have consulted on many beauty lines such as YSL, Estee Lauder Companies, Limited's Bath & Beauty, Laura Mercier and Revive.  The interesting note here was that while helping so many others over the years, these ladies had embedded in their minds, this concept which they so wanted to be their own but never had the time to develop….it was "their dream," says Sandy. How I love it when talented people like these ladies, can realize their dreams. They are well on their way with A DOZEN ROSES, try them, feel their emotion as you would a bouquet of your favorites and get ready for more to come!  Congratulations ladies, for living your dream!