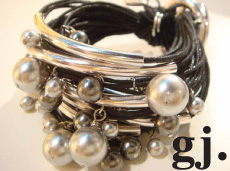 Gillian Julius, a native of South Africa and L.A. based jewelry designer will be at TOOTSIES showing her collection of bracelets that I first saw and fell in love with at TOOTSIES about a year ago. This experienced fashion jewelry designer has only been on to this new bracelet idea since 2007 so many of you may be unfamiliar.
Gillian Julius's bracelets are a unique approach to a trend that has been growing in the Fashion Jewelry Business.  The trend:  multiple strands of thinly sliced luxury all worn together to give a volume to the wrist that takes the place of the forever worn and still adored Bangles and Cuffs.
What makes Julius' bracelets so unique is their look! They are not clusters of metal that are also very popular right now, but the stylish look of leather with lots of jingling jewels hanging on, such as pearls, gemstones, silver or gold…and what's so unique about her baubles are that they are not leather at all, they are waxed cotton. Sounds strange, but they're not. Sounds different, and that they are!  When tied on to the wrist, the bracelets give a quality look and added adornment to any outfit.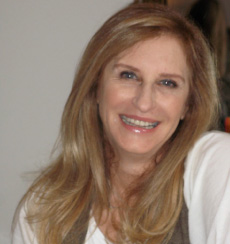 I've watched in amazement and adoration as these bracelet clusters have become so popular. They sell out so quickly at TOOTSIES, that I have found that unless I get there on an early ship day, they are gone! All the reason to drop by and take a look for yourself while the Trunk Show is going on the 17th and 18th.  You'll be able to pick from an expanded assortment, and I am sure you will find just the right one for you.  Trust me, they are hard to choose and will make great holiday gifts for yourself or as  a gift you can give that most others do not have in their jewelry drawer!
Details:
Gillian Julius Trunk Show
Wednesday, November 17—Thursday, November 18
Tootsies, 4045 Westheimer
10 a.m. till 6:00 p.m.