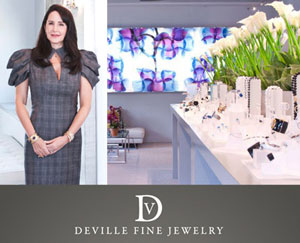 Houston jewelry designer, Elizabeth Glanville, founder and CEO of Deville Fine Jewelers comes to this business from two vantage points…one is a love of jewelry, fine jewelry to be specific, as her history is Cartier and Bulgari, and the other is luxury marketing.  She was one of the founding officers of Ashford.com, the Houston-based, publicly traded online luxury goods company.  It was a first, as I recall, that paved the way for online marketing, which has become a huge segment of the luxury business. The blend of these two passions has lead to her success as a leader in her field. Liz, a Chicago native, attended The Fashion Institute of Technology (FIT) in NYC before moving to Houston where she was awarded her MBA at the University of Houston.
Deville Fine Jewelry, founded 18 months ago, is a step outside the box within fine jewelry retailing in many respects. It is located in a bank building and only recently went to Monday thru Friday hours after working primarily through trunk shows and private appointments.  Perhaps most unique is its approach to selling in what we in retail refer to as "open sell," meaning that the fine jewelry is not under glass in caseline, but rather, is open for all to look, touch and feel.
Says Liz: "Everything about this process for me was driven by my wanting to make it accessible. From the minimal price mark-up, to the stones I pick, to the settings I design, and the colors of metals that I choose.  I want people to think of buying fine jewelry as approachable and make sure the experience of investing in that piece is enjoyable and personal.  I feel so strongly about this that I applied that same philosophy when designing the store. I think this process makes it more fun and the way we set it up makes it really exciting and a personal way to shop for jewelry."
This concept, so unique in this business, won Liz's company the 2010 ASID awards for Best Retail Design and Best Product Design.  I commented that showing fine jewelry at these price points open-air was a bold move on her part (she does have a security guard at all times) but should be commended for its approachable luxury and ease of access to its customers.
Her designs, inspired mostly by her travels, include all shades of 18K gold…meaning yellow, white and the newest fashion color, rose gold. Her signature is uniqueness and one-of-a-kind styling that makes a statement on its own.  To see one of her most fashionable pieces, view this month's July In Style Magazine spread on snakeskin that features her snake bauble that sold moments after it hit the newsstands.(pg. 169)
She uses all precious and semiprecious stones from trusted sources and global artisans.  When asked her inspiration for her current styles that will be on display at this Friday's Trunk Show, she felt the strongest to be her Indian influences from her trip there. Affordability, a strong consideration for Liz, is not an easy challenge with gold prices being what they are these days.  However, her designs do manage to be not so over-the-top to give her fashion customers "sticker shock!"
To see all of her latest styles, you should treat yourself to a stop in to her Trunk Show this Friday, July 15, at her studio. Below are a sampling of a couple of the special items that she will have on sale just for the show.

Details are below…
Date:         Friday, July 15
Time:        12-5 p.m.
Place         Deville Fine Jewelry
5700 Woodway, 2nd floor
281-501-3810
Enjoy Lite Bites and Champagne from Relish Fine Foods