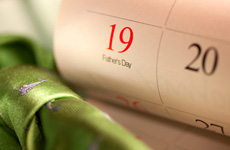 We gals make so much fuss about all that we do, whether it's wearing the latest fashion trends, or how to stay slim, healthy, and keep our skin all aglow. There's also the newest tech stuff, yes, we want it too. We have businesses to run and kids to keep track of and appointments galore!
However, this is one of those weeks, where we need to focus off of our own agendas and on to what the guys in our lives just might want as a trinket, however small or large? This Sunday, June 19th is their day after all!
So, we at The Chic Sheet have combed the web for ideas, either online or in stores, that might be the perfect something for that guy in your life, who unlike you (I know for me I keep a very vocal running gift list!), just won't tell you what he really wants and if not these specifics, hopefully it will at least make your mind start working and your fingers start clicking to find just the right thing for that special guy in your life, who may also be a DAD!?
Isn't Everyone a Techie These Days?

Ipad 2

Newest version of the hottest item out there
thinner… camera!
Available in store & online (preferred online)

Ipad Cover

Alligator embossed Italian calfskin protective case
Flip easel provides angled typing platform
Snap-tab closure with woven striped lining

Bluetooth wireless keyboard

Portfolio case has build in wireless keyboard for typing at laptop speeds
Easy access to built-in cameras and ports; built- in stand for great display
Fold-up design holds your Ipad tablet at perfect viewing angle
Available in stores & online
Can be cordless with 4 AA batteries or plugged in with included AC adapter

Ipad speakers

Perfect for enjoying great sounding music & videos
Built in stand allows for vertical or horizontal modes
Compact & lightweight enough to take the sound anywhere you want
Can be cordless with 4 AA batteries or plugged in with included AC adapter
Available in stores & online

GRILL-IT, SUCH A GUY THING…AND IT'S HEALTHIER TOO?

Remote meat thermometer

One of the hottest BBQ gifts you can give!
Have the freedom to entertain guests while the thermometer does the work
Takes the guesswork out of grilling
Display backlight for nighttime grilling
Available in stores and online

Meatball grilling basket

Spice up BBQ's with your favorite meatball recipes prepared fresh on the grill
Durable stainless-steel basket lets you cook & flip up to 12 at a time
Rosewood handle keeps hands at a safe distance from the flame
Available in store and online

Quesadilla grilling basket

Great tool to make sure you don't lose grilled quesadillas through the grate
Lets you flip them with ease
Available in store and online

Corn grilling cage

Grill corn to tender, smoky perfection..! without it falling apart
Adjustable stainless-steel cage holds up to 4 ears
Easy to turn rosewood handle
Available in store and online

WINE-MAN

Automatic Wine Opener

Simple, one-touch to easily remove wine corks
Can open 30 bottles on a single charge
No more hard to use manual openers
Available in stores and online

Wine Cellar

Stores up to 12 bottles of wine, touch pad controls with LED display
Dual-zone, double-door compartments keeps whites, champagnes and reds chilled at expert-recommended temperatures (2 temperature zones)
Dual fan system and soft interior lighting with on/off switch
Available online

Wine Chiller

Adjustable sleeve goes on picnics and trips across town to keep your chilled bottle of wine cold
Chills bottles in 10 minutes; keeps chilled bottles cold for up to 2 hours
Place sleeve in freezer for 4 hours before use
Stretches to fit bottles up to 2 liter size
Formed of 4 sections of neoprene- same insulating material divers' wet suits are made of!
Available at Crate & Barrel, Target, Sur la Table and online

Unbreakable Wine Glasses

Machine blown in Parma, Italy
Exciting fusion of elegance and technology
Extremely high level of durability and strength! UNBREAKABLE GLASS!
Maintains its clarity after thousands of industrial dish washing cycles
Available at Target and Specs, in store and online

FASHIONS FOR MEN

Watches, as I have said, a key accessory of the time (no pun here)
For the guy, black is usually number 1, either black w/black or mixed w/metal
Stainless is another favorite
Key vendors at Macy's include Burberry, Gucci, Armany Exchange, Michael Kors, Kenneth Cole, Movado and many otherAvailable at Macy's and many fine stores www.macys.com,

Vicki Rizzo always brings in her best pickins' of cuff links for Dad's Day
Featured is a gold Texas Lone Star inside of a silver band
Also available are A&M, U. of Texas, Gunshells and other designs that would make a Texas Dad proud
For a fun time, stop by MTYCI and pick up a deal or two for yourself at the same time or….
Visit new webstore at www.mtyci.com

Tom Ford is the new fave in women's sunglasses and we are the one's shopping, right…no one looks hotter than Tom Ford in his own glasses, you can do that for your guy!
If Tom is not in your price range, there are many others making great looking glasses such as Ray Ban, Guess, Gucci and many more.
Aviators or plastics are the way to go for style

Business card case

can never go wrong with this gift and they do wear out!
classic look in black leather and polished stainless-steel
keeps business cards together with magnetic closure
black velvet inside
available in store and online

SPORTS, THE WAY TO A MAN'S HEART!

Golf Green's Professor

Perfect your putt with laser technology
Provides instant feedback
helps you fine tune your muscle memory, improve putter face alignment and develop a consistent putting stroke
Works with any putter
Available online

Neil Leifer's Sports Photography Photo Book on Baseball

Neil Leifer is probably the most famous sports photographer alive today
Has every sport well represented both in photo books and in gallery showings around the country, great gift for the sports enthusiast
Claim to fame are his Muhomad Ali knock-out shots, seen around the world!
Baseball is the timely one but check them all out on his site.www.neillifer.com
Available to puchase at Saks Fifth Avenue, Target and select book stores

KEEP HIM GROOMED

Clarisonic Skin Care Brush is my favorite personal purchase of the last year
Makes skin cleaner and healthier
No longer just for gals, guys are loving it too
Available at Neiman-Marcus

J. Paul skin care for men

J. Paul Men's Skin Care line founded by two Houston natives that met in Kindergarten
Paul Looney and Paul Strong, successful businessmen, developed the line after being on a trip and realizing no shaving cream and had to use a concoction from a mixture of wife's products….hence, Men's Skin Care was founded
In business in Houston, Phoenix and Chicago since August, 2010
Aggie fan or Longhorn fan, you can support this line. One founder from each!
Famous for Scrub, Pre-shave cream, Glide Shave Cream for heavy beards, Ice, after shave and Guard, aface and body lotion.
In Houston found at Norton Ditto, Festari for Men and Longoria Collection
Also available on website, www.jpaulonline.com