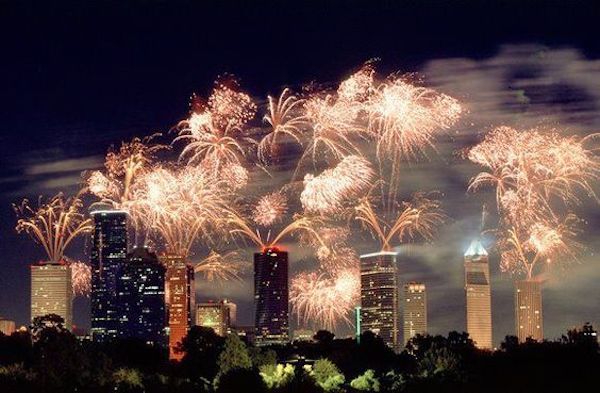 With July 4th approaching rapidly, we have compiled a list of the best firework displays in and around nearby Houston. Ranging from Memorial City all the way to Galveston, Houston will have many wonderful firework displays this year. So go with friends and family to enjoy one of Houston's many beautiful firework displays and many free events!
Citgo Freedom Over Texas, Eleanor Tinsley Park, Houston July 4th 4-10 PM
Celebrating 30 years of July 4th music, fireworks and fanfare on Buffalo Bayou, Houston's signature patriotic event - CITGO Freedom Over Texas - will turn it WAY up with live performances, family activities and stunning pyrotechnics Tuesday, July 4th from 4 p.m. – 10 p.m. For the first time in the event's history, the celebration will kick off with a patriotic tribute by United States Air Force Band of the West. Grammy-nominated and CMA-winning artist, HUNTER HAYES will follow before multi-platinum selling, 2016 MTV Video Music Award-winning DNCE takes the stage. As is tradition, the evening will conclude with a spectacular blast of fireworks thanks to CITGO who has provided the finale since 2015. This year, CITGO signed on as a dual sponsor providing both the pyrotechnics and titling the event for the next three years.
ExxonMobil Summer Symphony Nights: Star-Spangled Salute, Miller Outdoor Theatre, Houston July 4th 8:30 PM
Enjoy an evening with the Houston Symphony listening to patriotic, toe-tapping American music. Make sure to stay until the end for the 1812 Overture-complete with booming cannons! This celebration concludes with a magnificent display of fireworks provided by Miller Theatre Advisory Board.
Snow & Ice Celebration at Memorial City, 303 Memorial City, Houston July 4th 5-8 PM
Houstonians can stay cool this Fourth of July with 20,000 pounds of snow, ice sculpture demonstrations and frozen treats. Trade your sandcastles for snowmen, while playing in summer snow flurries on The Square! Families can enjoy this afternoon of FREE, family-friendly outdoor entertainment including live music, face painting, balloon art and patriotic eats before discovering one of Houston's many fireworks displays!
4th of July Weekend at CityCentre, CityCentre, Houston July 1-4
The July 4 weekend welcomes four nights of concerts to CITYCENTRE, and a 15 minute Independence Day fireworks spectacular you don't want to miss On Saturday, July 1 from 7 – 10 PM Pete Simple Band will be performing pop and rock. On Sunday, July 2 from 7 – 10 PM, Janell McDonald & Grace Point will be performing Inspirational music.  On Monday, July 3 from 7 – 10 PM, Max Flinn Band will be performing Country. On Tuesday, July 4 from 7 – 11 PM, People's Choice Band will be performing Country & Rock. This will end in a 15 minute fireworks spectacular at 9:30 PM.
 Firework Fridays & Fourth of July Celebration at Kemah Boardwalk, Kemah Boardwalk, Kemah July 1-4, 7, 14, 21, 28 (with an extended show on the 4th)
TGFF-Firework Fridays that is! Taking place every Friday through July 28, a colorful array will light up the night sky at 9:30 PM with a captivating fireworks show the whole family is sure to enjoy. Synchronized to music, each show will honor a different decade and take viewers on a journey through time, featuring classic rock, best of the 80′s and 90′s, or today's top 40 hits. Guests are invited to cruise on the Boardwalk Beast Speedboat and view the beautiful fireworks above Galveston Bay from the water. In celebration of our country's independence, the Kemah Boardwalk will host 5 Nights of Fireworks starting June 30 and leading up to July 4. On our country's special day, a 4th of July parade, live music and a special patriotic themed display of fireworks will be in full swing.
178th Annual Independence Day Parade and Fireworks, Seawall Boulevard starting at 41st Street and ending at 12th Street, Galveston July 4th 7:30-10 PM
Come to Galveston on Tuesday, July 4, 2017 at 7:30 PM to celebrate Independence Day! The Parade, sponsored by the Marine Corps League, will begin at 7:30 PM on Seawall Blvd at 59th Street and proceed east to 25th Street, with fireworks to follow at 37th and Seawall. Seawall Blvd is not anticipated to be closed until approximately 7:00 PM with traffic being detoured westbound at 23rd Street and eastbound at 61st Street.
Star Spangled Spectacular, 18355 Southwest Freeway, Sugarland July 4th 5-10 PM
Celebrate America's birthday at the city of Sugar Land's Fourth of July Celebration. This event is free and open to the public. Everyone will enjoy the variety of free entertainment, patriotic music, activity booths, and the fireworks finale after sunset. Performances will include: DJ/Drummer Don Vaughn, Electro-Hip Hop Violinist Svet, and Satellite Band.
Red, Hot & Blue Festival & Fireworks Extravaganza, Town Green Park and Waterway Square, Woodlands July 4th 6- 10PM
The 18-minute Fireworks Extravaganza will take place at approximately 9:30 p.m. The primary fireworks display will be located in Lake Woodlands adjacent to Northshore Park, with secondary close-proximity displays at Waterway Square and Town Green Park. The 2017 Fireworks Extravaganza will also feature a fireworks display near Rob Fleming Park in the Village of Creekside Park. To ensure spectators have the best fireworks visibility possible, fireworks teaser shots will be fired every ten minutes beginning at 9 p.m.
 Annual July 4th Celebration LaCenterra at Cinco Ranch, LaCenterra at Cinco Ranch, Katy July 4th 4:30-9:30 PM
LaCenterra's 4th of July Celebration, Presented by: Texas Children's Hospital West Campus is Tuesday, July 4th at 4:30 p.m. and begins with a Kids Patriotic Bike Parade located at Central Green Park at LaCenterra.  Kids are welcome to participate with their decorated, patriotic bikes and meet in LaCenterra's Courtyard at 4:00 p.m. and then parade to Central Green Park.  First, second, third and honorable mention place prizes will be given to the "Most Patriotic Bike." No sign-up is required. Sunny 99.1′s Dana Tyson kicks off the main event at 5:30 p.m. There will be live music in the courtyard, interactive Kids Zone located in Central Green Park, food for purchase and more. The event concludes with a spectacular fireworks display!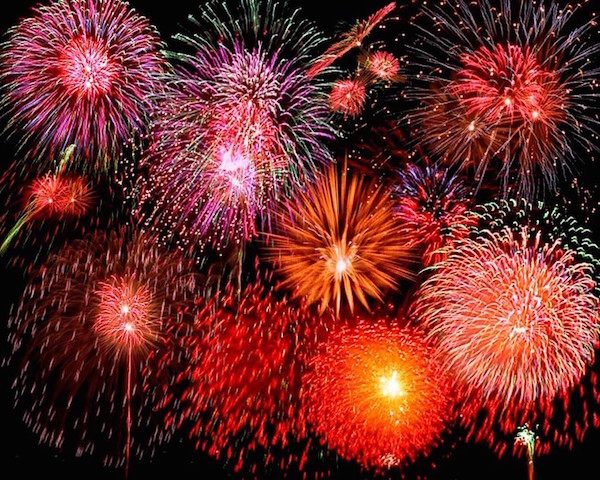 Photo Courtesy of Houston Herald
We hope everyone has a happy and safe July 4th!