Well, it's been a month since the Baybrook Mall store opened and the H&M folks were back in town to open H&M #2 at Willowbrook Mall.  I was at both and found the differences to be only slightly subtle, but different enough to warrant a trip to the newest addition to Houston.
First, it is a month later, so although many of the basics, which are incredible product at incredible prices, are the same, it is a month closer to Fall so there was true Summer merchandise to be found mixed with touches of early Fall transitions.  Leather leggings, a must have for Fall, were there at $24.95 in leather-like fabrications that looked great, as were blazers, mini skirts, animal print accessories, hoodies for guys and a mixture of wear-now for the kiddies of all sizes, as well as early arrivals for Back-to-School (Willowbrook goes up to size 14, where Baybrook only runs through size 8).
Men's seemed to have more categories, but I may have just paid more attention to the dress-up section that even had 100% silk skinny ties at $24.95.  There is Maternity, Plus Sizes and once again, ALL sizes of kids, plus an awesome accessories area that had the latest trends in handbags, jewelry, scarves, shoes and hats for all genders, and all sizes.

In chatting with Nicole Christie, it was only an update as we spoke in great length at the Baybrook opening…..here is what I was curious about?
**Anything unique or different that they have found about the Houston market that may be different than they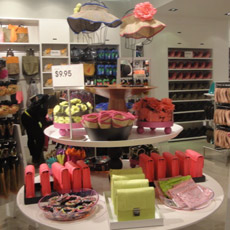 expected?…..answer: no, not really, H&M customers don't vary much from market to market. All want great trends at great prices.
**How was Baybrook doing?    It's doing better than expected and goods are flying out of the store.   They are having to double up on the stock they are sending them just to get them to stock levels that they need to be at for the business they have planned. Don't want them running out of merchandise.
**Any more Houston stores on the near horizon…..and I do mean near as closer to the city? She just said they are very happy with their two locations, they'll keep on looking and if a space comes open that gives them great location both within the city and within the property they will consider it!
Don't forget to watch for her on Fashion Star when it comes back on next season……now she'll be buying for Houston stores as well!
Some photo highlights…
Ladies Blue & Green Mannequins with related Merchandise surrounding it!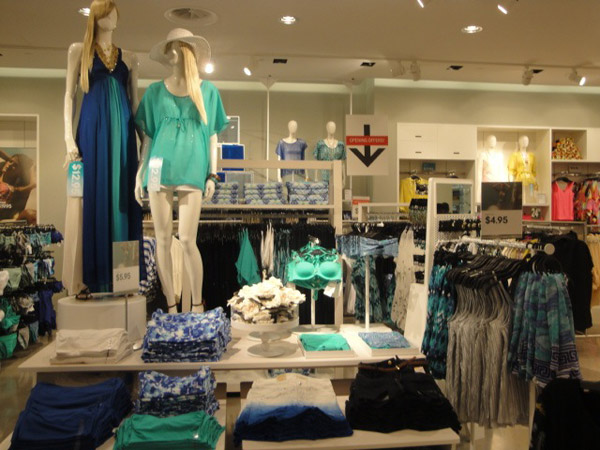 Double Row of Lacey Crochet dresses on Left & Leather Leggings on Right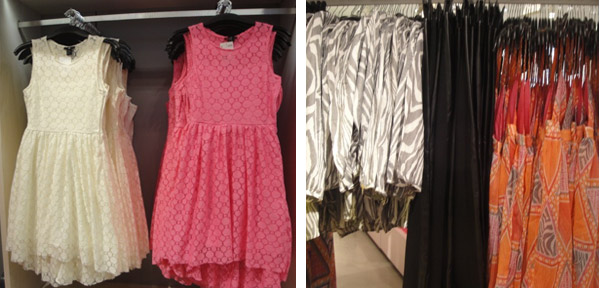 Men's Sportswear on Left & Women's Jeans Dept. on Right (Incredible Prices)

Men's Silk Skinny Ties on left & Men's Dress Shirt Wall on Right