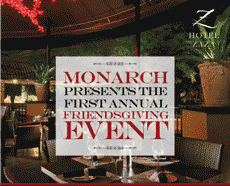 Hotel ZaZa Dallas' loss is our gain as Adam West makes the big move to H-town from his four year stint as Chef there to be Executive Chef at Monarch Urban Bistro and Lounge here.  West is already busy putting his own unique mark on the fall menu here with an interpretation and style all his own.
What better way to sample Mr. West's creations than to attend the First Annual FRIENDSGIVING Event at Hotel ZaZa's Monarch Bistro.
What:
An evening of Holiday festivities, live music and lite bites
One complimentary cocktail, $5 drink special
Live peformance by Katie Stuckey
Who:
Hosting will be:  Ballet Barre, Houston Young People for
The Arts, Opening Nights, Red Buds, Young Energy
Professionals, and Women of Wardrobe
When:
Thursday, November 18th
6:30 till 10:30 p.m.
RSVP:
rsvp@onthemarkcom.com
$10 suggested donation at door, benefiting Star of Hope
Houston Thanksgiving Dinner Program