It's mid-January and you have bought just about every sale item that you must have and are ready to move on into the New Year.  It is not too early to think about a Spring or Summer escape abroad, and of course I highly recommend Italy.
When we were in Florence in November, we stayed at a charming small hotel on the Via Tornabuoni, the fashion street. However, very near by, we searched for and found a hotel that we had heard wonderful things about. I took one step inside the unassuming entry of J.K. Place, a 20-room townhouse hotel overlooking Piazza Santa Novella, and immediately said, "I could live here". I fell head over heels for this special place where attentive, personalized service was so apparent from the warmth and kindness showed us from the moment we stepped inside. We were immediately invited to tour the public rooms and were offered to stay for a while, relax and enjoy an espresso in the library. It was a soothing break in our fast-paced  day.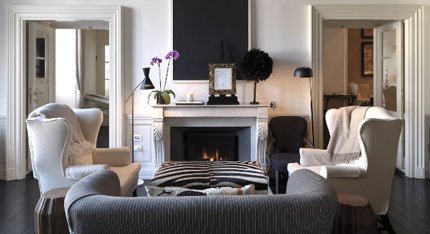 Behind the townhouse façade, JK Place is a cool, chic retreat whose antiques and artifacts contrast with an elegant theme of black and white décor.  There is a sense of calm here, like a cozy, sophisticated home. Totally lost is the sense that you are sitting in the middle of downtown Florence. In researching this very chic boutique hotel, I read that hotel critics say the Deluxe Double is the room you want?! They also give as a tip that a must see here is the breathtaking sunset over Florence, visible from their rooftop terrace. Did not know of this when we were there, so unfortunately did not get to experience this. I was also very impressed but not surprised to find that Travel & Leisure has ranked this hotel very high on the list of the Top 25 Hotels in Italy!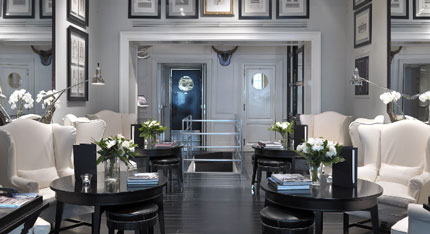 One of the homey touches beyond the many fireplaces and décor is that breakfast is served in what was once the internal courtyard of the original building. This "Heart of the House", features a long communal table and buffet that is set all day with exquisite desserts, wine, bread and traditional Tuscan oil.  The offering looked absolutely scrumptious.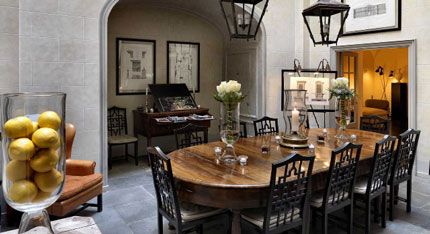 We had been told that this was a Ferragamo Hotel, however, it is not owned by that family but the interiors are designed by Michael Bonan, the architect used by the Ferragamos. He is a young Florentine professional, that has become known on an international level for his many extraordinary hotel projects and for reinventing the rules of contemporary classism. I recently was told that a JK Place also exists in Capri, another favorite Italian locale of mine.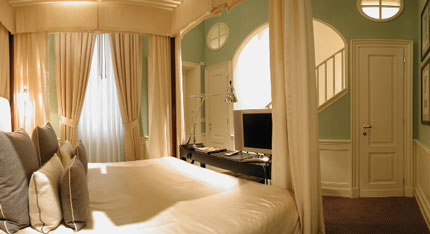 So, if planning a trip to Florence in the coming year, please visit their website at www.jkplace.com or email them at info@jkplace.com. This hotel was truly delightful and will be high on our list for our next-time visit to this exquisite city.