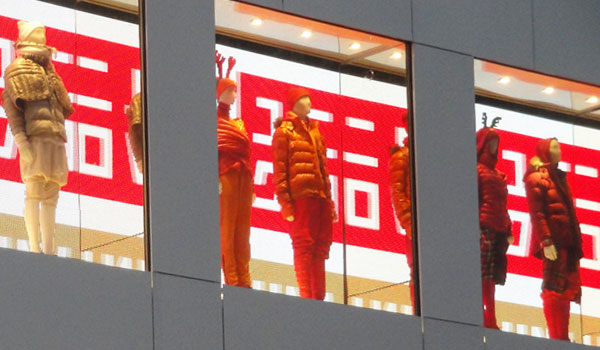 What is Uniqlo? You can't/shouldn't miss it when you walk down Fifth Avenue and see its flagship store on the corner of 5th Ave. and 53rd streets. It is self-described as "a new Japanese company that provides casual clothes for all kinds of people."  It opened two stores in NYC in October…..one in SoHo and the flagship on Fifth Ave.  It is a presence to be dealt with…..chocked and I mean chocked to the rafters in product that is very much affordable luxury.  Cashmere and down-filled jackets at prices not seen anywhere.  It is one of those stores, particularly at holiday time, where you saw spectators become shoppers (that would be us) walking out with bags filled with clothing that made for great gift-giving (with maybe one or two for yourself).  Most notable were cashmere and merino sweater basics at prices well under $100, down-filled jackets and their Heat Tech items, a treatment all their own that lends warmth and comfort to leggings, camis, tanks, undershirts and socks for gals and guys.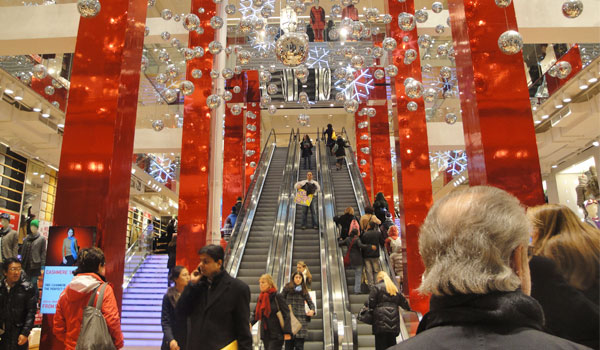 The sheer massiveness of its multi-level entry gave you a panoramic view of what appeared to be and was volumes of merchandise that was fashion-right, affordably luxurious that just screamed, BUY ME!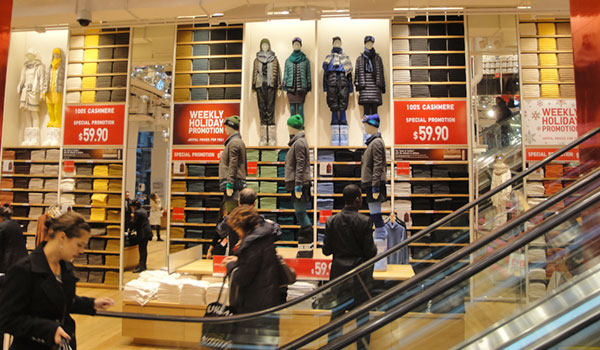 Basics are their niche, not that different from a Gap, except higher end, but a great selection of colors, in lots of styles and quality which appears to be amazing for the price, but only time and wear will tell for sure.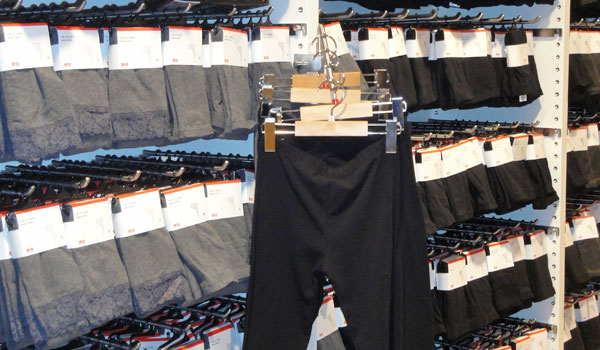 Heat Tech, which is their own trademarked process, was signed giving explanations of its process and how it works, which is to keep the heat from your body close to your body through this apparel.  I bought the leggings (shown above), my hubby bought the long-sleeved t-shirts and we both can feel the difference when we have worn them.  They are also very pliable, comfortable and lightweight to the touch.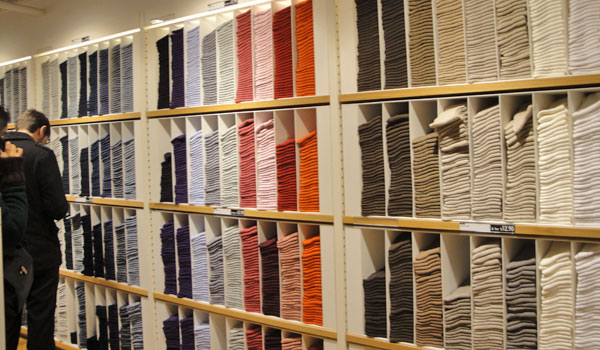 This photo I had to take because I was in awe as a former retailer. This was their Men's Sock Wall (unisex to me!)…every imaginable color in several basic styles.  What is there to say but WOW, what a presentation!
If you are interested in Uniqlo, they have a website, www.uniqlo.com where you can browse but not purchase yet.  They also have apps for IPhones and IPads that tell their story.  The plan, I hear, is to grow into other categories like kids, a natural for this concept, and to spread their wings to other locations.  Next trip to NYC, it's a must drop in and see for yourself to truly get the impact. I will be shocked if you leave there empty-handed!