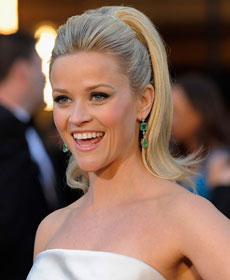 Were they cabochon or not cabochon (I love this stone both ways), that was the question of the day as the stars showed up in their glamorous gowns and standout accessory…Emerald earrings! They were definitely so much the jewel of choice, no matter what color the celebrity had chosen for their Red Carpet stroll. Some of the most notable were Reese Witherspoon in Neil Lane, Annette Bening in Lorraine Schwartz, Amy Adams in Cartier and Celine Dion who chose to wear her emerald in a large pendant.
It all began two years ago when Angelina Jolie made her exquisite appearance on Oscar night in head to toe black gown with stand-alone, emerald drop earrings (which you too, can own from Bulgari for $3.2 mill) and ring that would knock your lights out! She was a standout in the crowd and it was such a memorable look that it is still being talked about and copied today.
Diamonds were subtly there, mostly in the form of large studs and Natalie Portman's Ruby tassel ears were to die for, but Emeralds won the evening…after all Green is very much a fave color of the moment. Surely you recall that Kelly Green gowns owned the night at the Golden Globes and for this night of glamour, was back again, this time as the ear color of choice for many.
Emeralds are my birthstone and have been given to me over the years by my family…maybe I should resurrect them from the vaults or in the meantime, at the very least, continue to wear my fab emerald green statement earrings from Angela Caputti that I lovingly call my "Angelina Jolie earrings"…a girl can pretend can't she?!!!!