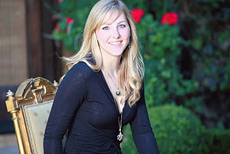 When I met Houston native, Katie Decker, the sparkle in her eyes as she spoke of her passion for jewelry design was equaled only by the sparkles of her precious jewelry collection that at the young age of 22 has become so successful that it has been recognized by Fragments, a jewelry group in NYC that represents only the finest in jewelry design.
How did someone of her age get to such heights in her career at such a young age? The answer is simply that it was no accident.  Katie's love for jewelry came naturally.  Her Mom Liz, a collector of fine jewelry herself, was her inspiration and encouraged her daughter at a very young age to follow her dream.  Katie began as a doodler and could be found sketching and doodling jewelry designs as a kid and continued that love of design through her years at the Kinkaid School here in Houston and at Texas A & M where the Finance Major's textbooks were covered with the many sketches that flowed from her creative mind to her talented fingers.  It was not until she worked for a local jeweler, while still in college that she was encouraged again, by the store owner at Julia's to put some of these designs into work.

Her first creation was to take a Black Tahitian pearl, belonging to her Mom and add to it an ivy-like cap design. Reaction to this lovely piece was universally positive and she was on her way!  She now boasts a collection of over 70 pieces, all of which are designed for women of all ages and have the feel of an heirloom collection with a very modern touch.
Katie's collection includes statement bangles, cuffs, some drop-dead rings and earrings, layering chains and interchangeable pendants.  All of her pieces are made from 18 karat gold in white, yellow or rose and are encrusted in micro-pave diamonds and/or adorned with pearls.  What I especially liked about her pieces are that they are detachable and stackable.  Layering, a trend so prevalent in jewelry today, can add an extra flair to this timeless collection. Another emerging trend that has graced the Red Carpets this past season are Tassles and Katie's creation of tassle earrings are two of my most favorite pieces, done in black onyx or pearl.

Her style, made up of many lacey, intricate designs has a very feminine approach but because of her youth has a certain edge as well.  Katie feels that many of her designs can adorn the loveliest  cocktail dress to the savviest leather jacket.  Pearls and diamonds with leather, a look of contrast that I like a lot, along with versatility, gives her the edge that makes her jewels work for every woman, every age….or as she refers to it, "a balance of old school glamour and new school edge."
Katie's press coverage and acceptance has been much greater than her age and mere two years in the business should dictate.  She is being carried, through their collective strategy, in only the finest stores in Texas and across the country.  She is most encouraged that Neiman Marcus, through the Fragments showroom has selected her for their Chicago store's precious jewelry department.
She has been invited to participate in the Couture Jewelry Show in Last Vegas in June where she will be showing with many of the greats of fine jewelry, such as Bulgari. Our hopes for her is that venue will be the launch pad for even more success for this young and very talented beauty.

Lesson learned here is to all Mom's, do as Liz  has successfully done with her daughter. Encourage and nurture the very talents that you see in your children and arm them to succeed.
As a very young girl, I modeled for my parents' camera, all of my birthday gifts, watched fashion shows on TV after school and because of the nurturing of my parents began my career in the fashion world, which has become my life-long passion.  It's not always that obvious but it's there in young ladies like Katie who is living through her talents, a life she has always longed for…just takes imagination, creativity, hard work and the guts to make it happen.
Katie's jewelry is available through the Fragments Showroom in NYC, Fragments SoHo in New York, online at
http://www.fragments.com, at Judith Ann's in Houston, Neiman Marcus in Chicago and other fine jewelers throughout the state and the world.  Although, it is not a selling site, you can visit http://www.katiedecker.com to see the breadth of this collection.