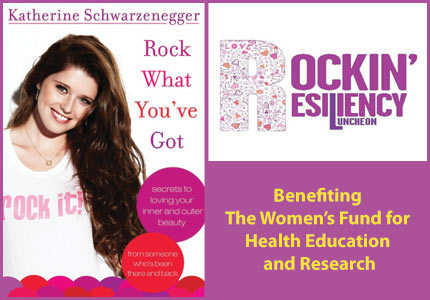 The Post Oak Hilton will be THE fun place to be this Saturday, October 15, when Moms and Daughters come together for a great day of shopping, lunching and learning a little bit more about themselves.  Featured guest speaker for the Rockin' Resiliency Luncheon, being hosted by The Womens Fund, will be Katherine Schwarzenegger, daughter of Maria Shriver and Arnold Schwarzenegger.  Katherine will be here to encourage women and girls to "Rock What They've Got"!  Katherine is a very active young woman…student, author and global activist.  She will be speaking candidly about the struggle to develop a healthy body image in today's body-conscious society and the confidence it takes for young women to celebrate who they really are.
"We think Katherine is the perfect speaker for young women with the difficulties of adolescence and her message is one of resilience," said Melissa King who is co-chairing this event with Diedra Fontaine and Carmen Maria Montiel-Lechin and Honorary Chair, Philamena Baird.
There will also be a Shopping Extravaganza chaired by myself and Leisa Holland-Nelson that will bring together lots of exciting choices for both Moms and Daughters to pick from stores and designers such as The Cardinal, Willow, Mary Nichols, Andrea Montgomery, Kelly K. Designs, Mollasses Candy, Debbie Greenbaum and many, many more. Come early, shopping opens at 10:00 a.m. thru 2:00 p.m. Informative educational seminars will be happening from 10:30 till 11:30, Lunch with Katherine from 12-1:00 p.m. and then she will be staying to sign her new book, "Rock What You've Got" after the lunch.  The promise from all is a fun, gal-friendly luncheon and fun time that Mothers and Daughters can share.
The Luncheon benefits The Womens Fund for Health, Education and Research programs that teaches young women how to become resilient in the face of the difficulties of adolescence. The programs ensure that adolescent girls, at a vulnerable age, have the skills and information needed to make the tough choices they face growing up.
Seats are still available at prices ranging from $250 to $25 for the youth.  Saturday was chosen to encourage pre-teens, teenagers and young women to be able to attend.  For more info on this fun-filled event, contact Kelly Young at 713-623-6543 or visit, www.thewomensfund.org.
Hope to see you there. You are in for such a treat!