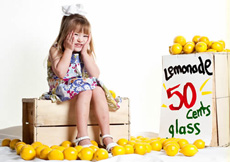 I'm sure everyone can remember standing on the corner of their street on a sweltering summer afternoon selling lemonade, and then later watching your kids continue on with the tradition. This Sunday, May 1st, is Lemonade Day – a free, community-wide program dedicated to teaching children how to start, own and operate their own business through the simple and time-honored act of building and running a lemonade stand. The Mayor and other community leaders helped launch the program at a city-sponsored after school program on March 24, 2011. Backpacks containing workbooks explaining how to be successful entrepreneurs were given to the youth planning to participate.
"Our children are our future. Lemonade Day gives them a taste of what is required for success.  What they learn from participating in this American tradition will have an impact many years into their careers," said Mayor Annise Parker, City of Houston.
Lemonade Day teaches youth important life skills through experiential learning. It also gives them the chance to spend, save and give away their earnings – they donate a portion of their profits to a local charity of choice. Of course, as with the real world, after covering their expenses and paying back their investors, children are encouraged to open a youth savings account.
This program started locally, in 2007, when local entrepreneur and philanthropist Michael Holthouse taught his young daughter and her friend lessons when they set up a lemonade stand.  Since then, it has grown to a nationwide program and this year Lemonade Day will expand to 31 cities.
Lemonade Day is a part of Prepared 4 Life, a non-profit that provides fun, proactive and experiential programs infused with life skills, character education and entrepreneurship. To sign up or learn about ways that everyone can get involved in Lemonade Day, May 1, 2011, please visit www.LemonadeDay.org.