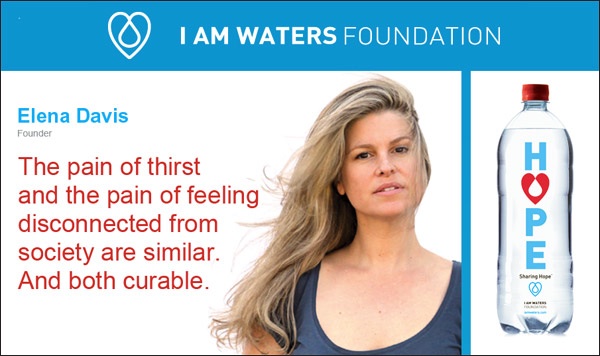 About I Am Waters: I Am Waters, is a non-profit organization based in Houston, Texas dedicated to providing fresh, clean water to the homeless.  The goal is to enrich the lives of America's homeless by providing a continuous source of fresh, clean bottled water, delivered with a daily, inspirational message of hope, love and a sense of belonging to the greater community.
About Elena Davis: Elena Davis is the Founder and President of I Am Waters Foundation. Her story of how this all began for her came from a desire to give back accompanied by an encounter with a homeless woman on the street, where after offering her money, her response was what she really wanted and needed was WATER! This got Elena's creative mind and giving spirit going and the call to action was strong…she knew her place was to help people living on the streets. The numbers of people helped have been astounding……three years ago, over 47,000 bottles of water with inspirational messages inside were given to the homeless. Summer of 2011, 300,000 cases was the number given out. The need is there and the organization is put in place to provide spiritual and physical hydration to the American homeless. Elena is committed to continue moving forward.

CELEBRITY ENDORSEMENTS: I Am Waters Foundation salutes the American heroes and icons that have lent their images in order to bring attention to this very important cause.

Exciting News: April 25th Inaugural Luncheon

Prior to Elena's marriage, family and philanthropic work, she was a top fashion model. For over fifteen years, her image graced the covers of magazines, appeared in ads on the pages of the most prestigious fashion mags and she also appeared in over 40 national TV Commercials. On April 25th, eight of Elena's Supermodel buddies of the '80′s are coming to Houston to support her for her first Inaugural Luncheon Celebration. To find out how you can participate by attending this unique one-of-a-kind luncheon, and learn more about I Am Waters Foundation, click on www.iamwaters.com for ticket purchasing info.