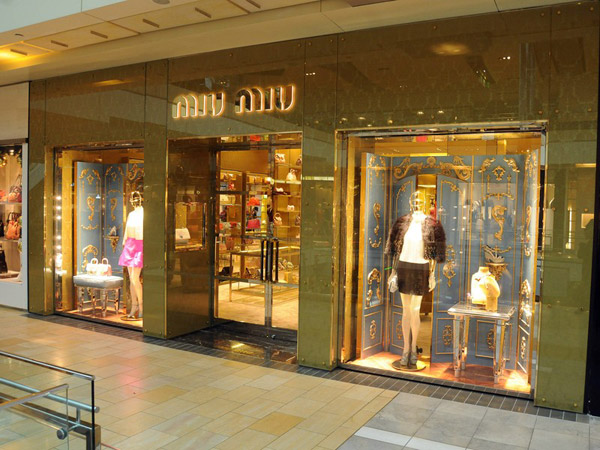 Many of us that are long time fans of Miuccia Prada and her brand, have grown to appreciate Miu Miu, as the designer's more playful side.  Miu Miu, nickname for the designer, is younger, a little edgier and is the place where she is more likely to step out.  It has been said that Ms. Prada herself has been quoted as saying that "she designs Prada and that she dreams Miu Miu."
The store, also designed by Italian architect, Baciocchi, and only a few steps away from its sister Prada store, features a visually impressive exterior facade that interprets the brand's distinctive identity.  The inside, characterized by soft green damask walls and ceilings and full-height mirrors divides the store into three distinct rooms, each a home for the three major categories that are the collection.

These bags, designed exclusively for the Houston store opening, are available in pink, blue and yellow.  While I have only few photos of this amazing merchandise, it must be seen to truly enjoy.
In fact, barely pictured here, are many of the touches of bling in the sequined footwear that ranges from athletic sneakers to heeled platforms.  Touches of stones on heels and toes, and on soft-handled bags are so characteristic of Miu Miu style.  The new sunglass shapes in a multitude of finishes were delightful to try on and a must for me for the brighter, summertime months ahead.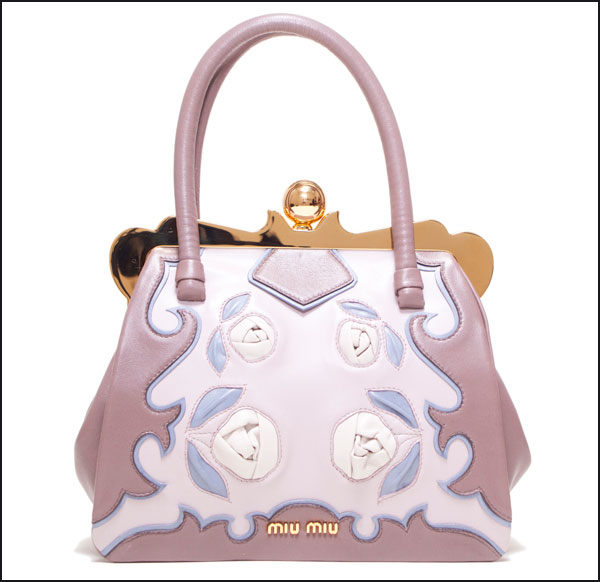 In reviewing online the many new Spring styles slated to continue to hit the stores daily, this "baby sister" line to Prada has many of the same retro feel looks, such as some bare midriffs, a-line skirts, and lots of lace done very edgy in bright colors in skirts, long jackets and dresses.  The Miu Miu runway answer to the finned sandals of Prada will be the patterned boots that again, I predict, will blow out of the store when they arrive.  They are awesome!
To see more of the Spring/Summer collections, visit www.miumiu.com.