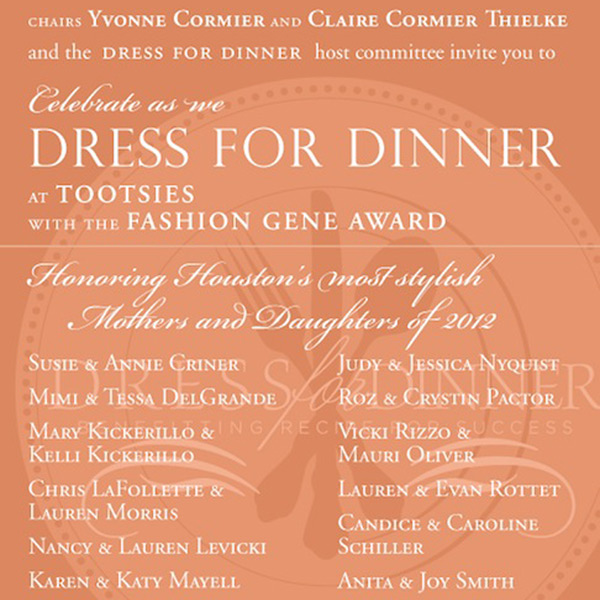 Some may say that every event in Houston is a fashion event, but within the next two weeks two fab fashion happenings will be occurring in H-town that have become annual events not to be missed. First, is for Recipe for Success. When Gracie Cavnar put her mind to it two years ago and brought together two of Houstonians' favorite things, fashion and dining, and created the Dress For Dinner trilogy of events, Houstonians loved it and an annual fashion event was born as a way to  support RFS, whose goal it is to combat childhood obesity.
Gracie and this year's chairs, Yvonne Cormier and daughter, Claire Cormier Thielke are appropriately launching what they are banking on becoming an annual event, a salute to Houston's most stylish Moms & Daughters at Tootsies on May 2. I've been thrilled to be a part of this event every step of the way, from its conception to co-chairing last year to being one of the Mom & Daughter teams this year.  It's going to be great fun, raises money for a super worthy cause, helping to save young lives through healthy eating education & choices and will highlight Spring Fashions from Tootsies.  It's not too late to get your tickets, only $50 and can be purchased online at http://www.recipe4success.org or at the door the night of the event.
You can cheer on your not-so-professional model teams and M.C. for the evening, Clifford Pugh.  Please come and join us. You won't want to miss the fun, fashion, lite dining and spirits!