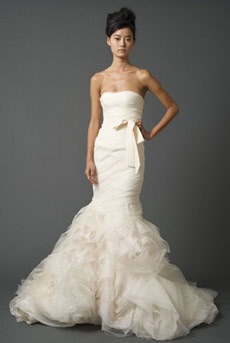 Bridal is all the buzz these days.  Designers, known for their beautiful evening collections have taken a "step down the aisle" to be part of the phenomenon that is taking over fashion apparel, many categories of accessories, increases in venue offerings, event planning and catering, etc. Even my own brother, Steve Tyrell, who has been known his entire singing career for a signature song which began with the Father of the Bride Movies, is coming out with a wedding album/CD…all of this for the simple reason that weddings are hot, and in the case of Joan Pillow Bridal Salons, the word is haute!
Known in the past as Impressions Bridal Salon since their inception in Atlanta 22 years ago and arrival in Houston's Highland Village in September of 2009, the name has recently changed.  Why you ask after 22 years…the answer is simple. Another apparel maker, Impressions, owned by Ashton LLC has gone into the Bridal business and opened up stores in many cities, including Houston, so why confuse the customers?  Joan Pillow, founder and owner has such a reputation in the market place, that it only made sense that she take it simple and just use her name as the namesake of the store that has been her passion for all these years. Hence, officially the new name is Joan Pillow…a Bridal Salon, has been created!
That's where the change ends. The same fabulous, most in-demand Bridal design names in the industry, ranging from classic simplicity to fashion forward designers and their beautiful dresses, many of which are exclusive to Pillow, are all there.  Names such as Monique Lhuillier Bridal, Vera Wang, Jenny Lee, Carolina Herrerra, Marchesa and Ramona Keneza to name a few.
Joan, who began her love of couture dressmaking at a young age in collaboration with her own mother who was an extraordinary craftsman and taught her the true meaning of quality.  This appreciation of quality and fine construction led her to her first retail career position at Neiman Marcus where as an under-study to Mr. Lawrence Marcus, she refined her appreciation for couture fashions.
Please stay in touch with her new website, http://www.joanpillowbridal.com where you can watch for the many trunk shows and personal appearances that are coming.  Joan's salons, while primarily known for her bridal selections, are also a destination spot for debutante and beautiful evening wear, made by many of the same designers that she carries in Bridal.