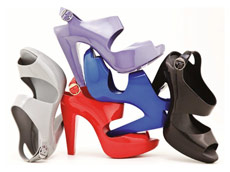 Here's a fun, exciting way to help the environment.  Lenny & Cia in Uptown Park and Melissa Footwear, the makers of those fab plastic shoes that many of you have seen on me and inquired about, have partnered for Earth Week.  Their idea is simple.  If you bring in to their store a pair (or several) gently worn shoes as a donation, you can place your name in a raffle for a new pair of Melissa shoes.  If you actually buy a pair of Melissa shoes (irresistible, I warn you…such fashion at affordable prices), they up the ante and you get a secod raffle chance. How easy is that?!
ABOUT MELISSA SHOES:  Just in case you missed my previous article.  These Brazilian made shoes are designed by many of the top high fashion designers such a Thiery Mugler and Vivienne Westwood and manufactured out of a plastic wear, specifically created to be cool (temperature), flexible, comfortable and recyclable.  The end product is ultra-chic and most importantly, ultra-comfy and at prices that are well below designer shoe prices.   If you are like me and hit the road, literally, from morning till evening and need to look your best at all times, these shoes are for you.  No more weeping in your stilettos…same great look for a lot less pain.

So, please celebrate Earth Week and yourself by stopping by Lenny & Cia and trying on these great looking shoes…I promise you, you will be helping the environment in a way that will put a smile on your face!  For more on this line and others carried there, click http://www.lennyandcia.com.