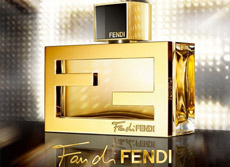 Fendi, known for all things Italian luxury and those colorful infamous sisters, should have a great fall this year with their signature fur being one of the hottest trends the coming season. Also, it is launching its newest fragrance Fan di Fendi, which premiered in Europe last Fall and is launching in the U.S. now with a two month exclusive lead to Saks, starting on July 15.
Fan di Fendi is a luminous, sensual, and addictive scent.  The Eau de Parfum was created with special attention to Fendi's signatures such as fur and leather.  The fragrance opens on a vibrant and long lasting freshness: a juicy pear and blackcurrant accord, illuminated by the essence of tangerine and enriched with pink peppercorns.  A radiant floral on a leather base.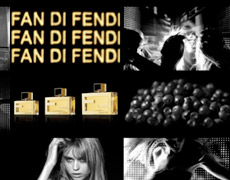 Being such a visual person, the look of the packaging and presentation are always what gets my attention.  The bottle pays homage to Fendi's most iconic looks…the gold buckle of the cult Baquette bag, noble shapes and luxury materials, and the Fendi sun yellow and handcrafted leather.  This bottle won me over…will bring a touch of sophisticated "wow" to my dresser!
Available at Saks; 7/15-9/15 exclusively, with wider distribution thereafter.