What is Fashion's Night Out? It originated three years ago by Anna Wintour, Editor in Chief of Vogue Magazine as its own "fashion and shopping stimulus package" to celebrate fashion, restore consumer confidence, and boost the industry's economy during those recessionary days when many customers were avoiding retail stores in an effort to cut back.  Anna's idea was to celebrate Fashion as a business that brings much joy to all of us, fulfills many of our daily needs, but is most importantly also a major industry in the world that employs a lot of people with many of the same basic needs as its customers. They also needed their fair shake of support or stimulus from those of us that just can't live without it!
FNO was created as an unprecedented global initiative  that would celebrate fashion in over 100 cities worldwide and hopefully get people back in to the stores and boost the retail industry. She wanted to make it fun, exciting and make fashion accessible to all.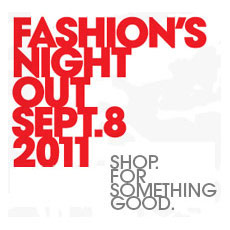 It has been a building process over three years, starting in Manhattan, where the entire fashion and celebrity community came together to highlight fashion and support retail with exciting events that included designer appearances, celebrity guests, fashion shows and musical performances. They were out there, visible in their stores, to meet the people and get them excited about shopping again.  For updates on any of the FNO activities or to purchase their products that benefit AIDS visit their website, http://www.fashionsnightout.com or on Twitter by following @fnonyc(#FNO).
Houston has joined in full force this year and have many fun celebrations happening in this fashion city of ours.  The following is a listing of the many events, by Retailer, of Thursday night's fashion-filled evening……
Here is a listing of events around town:
Saks Fifth Avenue
Where:
On ONE at Galleria store
When:
6:00p.m. till 9:00 p.m.
Highlights:
Check in with STYLELIST, AOL's source of the latestFashion news and trends, to test our Fashion I.Q. for the chance to win exclusive prizes; consult with makeup artists on newest beauty trends
IMPORTANT NOTE:  Chat with fashion bloggers as we Blog live:
Come talk with me, I'll be there, stop and say hi and share some of your fashion savvy with me at The Chic Sheet.com; Can't make it to Saks, check TCS for all the fashion chatter that I posted live online, the very next day at www.thechicsheet.com
Neiman Marcus
Where:
Houston Galleria
When:
6:00p.m. until 8:30 p.m.
Highlights:
Fall trends fashion show @ 7p.m. (2nd floor, Couture)
"Like" Lounge (3rd floor).  Show some Facebook love at the Mariposa® restaurant
Art exhibit curated by Colton & Farb Gallery (located throughout the store)
The Art of Dogs exhibit by Kim Hartz and Life + Dog magazine
Etro Lounge featuring Brugal Rum "Etrotinis"
RSVP: (713) 621-7100 ext. 2294 or RSVPHouston@NeimanMarcus.com
Macy's
Where:
The Galleria at Hidalgo
When:
6:30 till 8:30 p.m.
Highlights:
Fashion Show features trends/designers of the Season;  Mall entrance; 7:30 p.m.
Complimentary Makeovers; stop by Cosmetics beginning at 6:30 p.m.
Expert style consultations and Red Carpet photography Mall entrance, 7:30 p.m.
Live music and sweet treat all evening long
Galleria Mall: Simon Fashion Now
Where:
Galleria Ice Rink
When:
Party begins at 6:30
Highlights:
Runway Fashion Show featuring all of the best Fashions and trends from many of the best Galleria Stores at 9:00 p.m. (featuring Neiman Marcus, Saks Fifth Avenue, BillyReid, CH Caroline Herrera, Fendi, Jimmy Choo, MaxMara, St. John, Tiffany & Co.)
Elaine Turner & Kendra Scott Jewelry
Where:
Rice Village: 2439 University Blvd. Houston, TX 77005 & CityCentre: 800 Town & Country Blvd.      Houston, TX 77024
When:
6:00 p.m. until 9:00 p.m.
Highlights:
Visit Elaine Turner stores to see new products from Elaine Turner, and also an all day trunk show from Kendra Scott Jewelry
Complimentary Champagne, Wine, & Hors d'Oeuvres
View of Kendra Scott's Fall collection
15% off all full-priced merchandise
RSVP: (713) 255-9095
BB1 Classics

Where:
1101-06 Uptown Park Blvd. Houston, TX 77056
When:
September 8th until September 11th
Highlights:
Celebrating a Luisa Cerano Trunk Show with wine and cupcakes!
Receive a gift with a Luisa Cerano purchase
Enter to win a Luisa Cerano Croco Handbag after spending $500 or more
Enter to win a $500 gift certificate for a future purchase of Luisa Cerano after spending $1000 or more.
Tootsies
Where:
2601 Westheimer
Houston, TX 77098
When:
September 8th until September 9th
Highlights:
KAUFMANFRANCO Resort 2012 Collection Trunk Show
Jude Frances 2011 Fall and Holiday Jewelry Collection
Cotton Club Collection
Where:
3941 San Felipe Houston, TX 77027
When:
September 8th until September 10th
Highlights:
Lilith Spring 2012 Trunk Show
Elizabeth Anthony / Esther Wolf
Where:
1180 Uptown Park Boulevard
Houston, TX 77056
When:
September 8th until September 10th
Highlights:
Designer Showcase of 2011 evening collections featuring Marchesa, Kevan Hall, & Pamella Roland