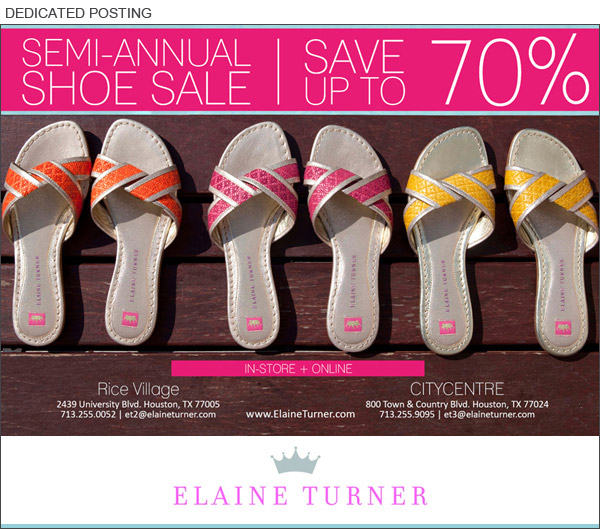 Elaine Turner wants you to pack your bags full of her favorite summer shoes as you get ready for that first trip out of town…and she's making the prices right for you to do just that.  She's not even waiting for summer to officially get here….that's June 20th, as we know.  She is taking new markdowns, on many of her best wear-now styles starting today, June 12th thru June 21st. There will be huge quantities of summertime footwear in flats, sandals, wedges and an entire assortment of styles, colors, prints, raffia and exotics. All of this for her Semi-Annual Shoe Sale, with prices up to 70% off. To see the complete sale package, complete with photos, click on www.elaineturner.com.

Can't get much better than this.  So if you are planning a trip to the beach or just hangin' pool-side, taking an urban excursion or just need to look fashionable for a day at the office, you can plan your summer wardrobes now, complete down to your fashionable toes…..just what you fashionistas have been waiting for.
Online: (Today only), get 15% off on full priced shoes, by using PROMO CODE, SPRING2012. Also, as a special treat for The Chic Sheet readers, you can get 15% off any full price shoes, through June 21st,  just by saying the word "chicsheet" at checkout.