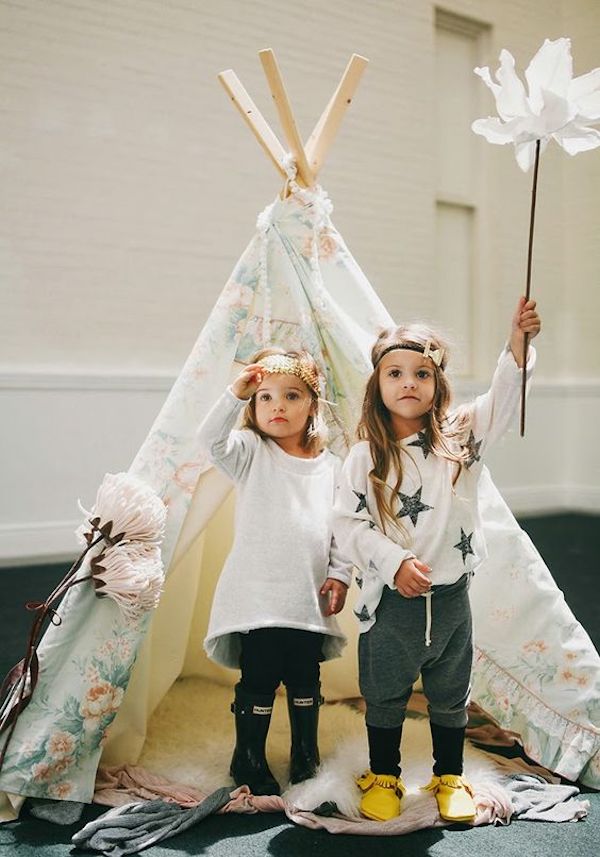 Image: Kid-FashionClub.com
'Holidays are for Kids'….we always say it and now I know we believe it!  Nothing better than shopping for the little ones. Guaranteed to always be fun. There are so many great finds out there for the littles, tweens, and teens. And the smiles that take over our kiddies faces as they're opening their presents; well, it's simply the very best. Below you'll find TONS of gift ideas for the children in your lives. Enjoy!

Littles
1. Magnetic Building Blocks 2. Kids Toy Drum Set 3. Chomp & Clack Alligator Push Toy 4. Wooden Owl Stacker Toy 5. Nesting & Sorting Garages and Cars 6. Little Chef Soft Activity Book 7. Snacks and Sweets Food Cart 8. Slice and Bake Wooden Cookie Play Set 9. Luxe Small Giraffe 10. Kids Grand Piano 11. The Eyes Game 12. Camping Cubs Activity Gym 13. Wood Alphabet Puzzle 14. Wooden Stamp Set
Teens and Tweens
1. Super Power Clutch w/rechargeable battery for your iPhone inside, $98 (a bientot) 2. Magnetic Board Game Set 3. PINK Cool and Bright Body Mist 4. UGG Boots 5. Emoji change purse, $6 (a bientot) 6. Kids Galaxy Remote Control Killer Whale 7. Sleepover Party Mad Libs 8. Hooded Sweatshirt 9.Restickable Decals $8 (a bientot) 10. Hairband with Flowers 11. Nail Art Kit 12. Solar Powered Robot DIY Transformer 13. Urban Decay Naked2 Basics 14.Stick-on leather patches, $9  ( a bientot) 15. PINK Plush Bling Robe 16. Small clutch w/fun sayings $88 (a bientot)

Note: a bientot's website is currently under construction, so in the meantime, if you live in Houston, head on over to the store (2501 River Oaks Blvd., 713-523-3997) to shop the great gifts above, as well as many others!