Another perfect modern twist on a fashion classic…there's Pleats galore! Now given this isn't the first time we are seeing pleated skirts everywhere, but unlike last fall this season the pleated skirts have become even more popular than before! With fun prints and varying lengths to accommodate any pair of fabulous legs.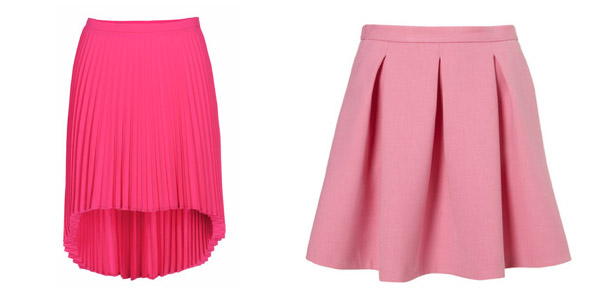 Perfect for spring, pleated skirts add a little retro pizazz to any wardrobe. It adds texture and dimension to your entire outfit. These pleated skirts are also perfectly versatile for any occasion. Pair it with a collared silk blouse and you're ready for a fabulous day at the office. Keep it simple, but also add some splashes of color with accessories. Styling is the key to wearing pleats, and if complimentary pieces are planned carefully, you can't go wrong.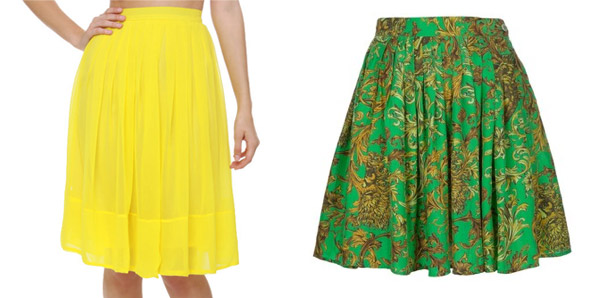 Since you already know how to love it, make sure you know how to wear it!  Rule number 1- don't over do it! Pleats are a statement of their own and you don't want to take away from that, so keep other pieces simple.  Rule number 2 – Tuck in the top with the addition of a great belt. Yes there are exceptions to everything, but if you want to play it safe, tuck in your pretty blouse or wear it with a cropped jacket. Just don't cover up those pleats, let them shine! Rule number 3 – Accessories! Don't go overboard with accessories. Keep it simple and make it bold. Nothing stands out more than a perfect pleat, a simple blouse and a fabulous statement jewelry piece at the neck, on the arm or with another Spring Trend, a great pair of statement earrings to tie the outfit together. You'll definitely be a winner!