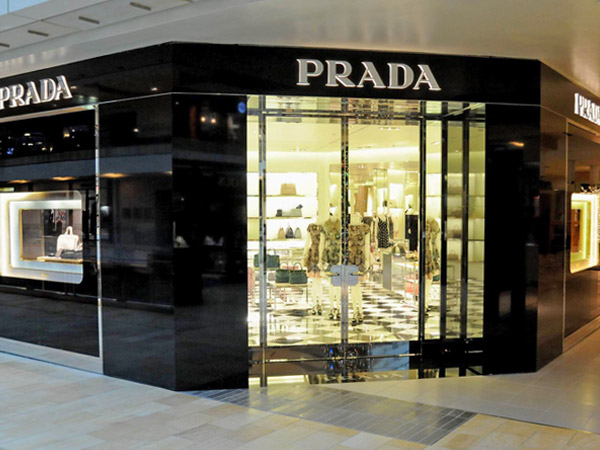 If you are ready to take a breather from all of the Fall/Holiday clearance that we have been entrenched in for the last several weeks and like, myself, can finally take some time away from those red-line tickets, then treat yourself to visit the Prada stores that opened their doors in Level I of the Galleria, only moments before Babbo Natale (Italian for Santa Claus) came to visit our homes.
I must say, we Italians are known to be superstitious and know when things will be good or bad for us. This is why I KNOW that Prada's decision to make their first landing in Texas from Milan, here in Houston, means nothing but good things for both of us.  This fact was confirmed when I visited both stores recently.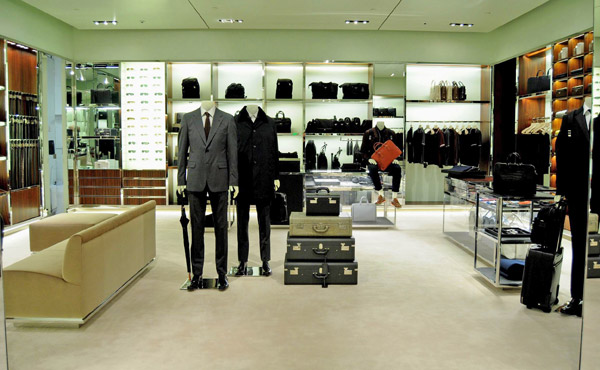 First, the Prada store is exquisite. The exterior, designed by architect, Roberto Baciocchi, is perfectly situated on the corner so that everyone can see the sleek black marble facade.  This awesome entrance leads you into four rooms, defined by the elements that mark Prada's brand identity worldwide, black & white chequered marble floor and pale green walls.  The women's area is soft-colored, while the men's consists of rosewood walls and black crystal counters.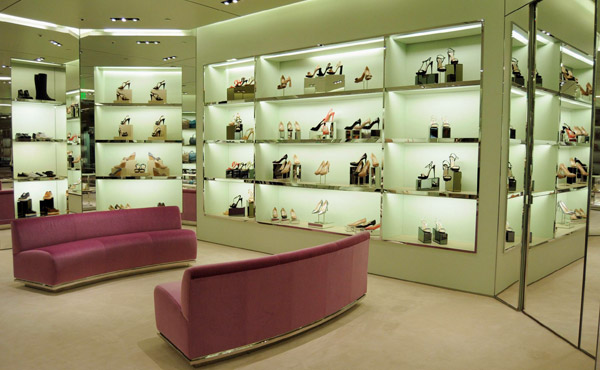 Both are the perfect touch of elegance that provides the setting for the Italian's sophistication in its apparel, handbags, footwear and newest jewelry collection. The merchandise that is in the stores today are the beginnings of its Spring collections, which the sales staff felt assured would be peaking in February.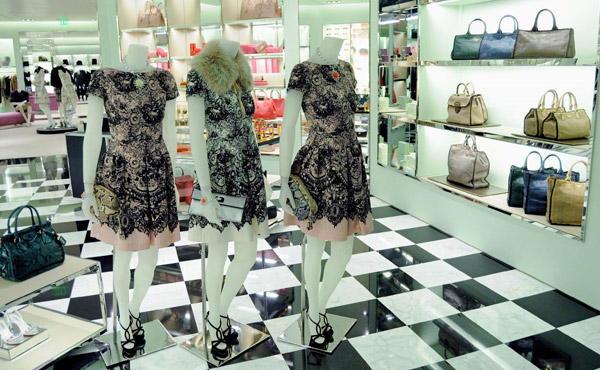 I can hardly wait to see the "sweetness," which was Miuccia Prada's summation in describing Spring's apparel collection that is heavily influenced by the 50's. For the women, there's the Marilyn influence in accordion pleated skirts, sweater seats and bandeau bare-midriff tops under coats of crochette and printed florals. For the guys, there's definitely an Elvis vibe!

I have photos of many of the newest bags, but the big accessory news from the runways is the serious Firepower Sandal shown here.   This shoe, with tail fins shooting out the back and color-blocked in multiple versions, though not in the stores yet, have been heavily photographed in editorials in many mags and will fly off the shelves when they arrive next month (that is my prediction!).

The exquisite accessories that are there now and favorites of mine are the beautiful Rose Jewelry Collection that offers much glitz & glam to the wearer.  Also, another favorite for me is the straw handbag collection, done in muddied vegetable dye colorations, but is a clear standout in metallic.
This is all in the store today and must be seen! To see more of what to expect for Spring/Summer from Prada, visit www.prada.com.