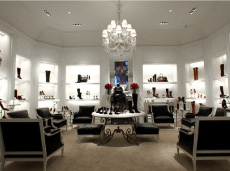 If you're traveling to New York City any time soon and you're like me, one stop on your city walking and shopping tour has to be Ralph Lauren's Flagship Mansion on Madison Ave. & 72nd Street. Particularly if it's during the holidays as it promises to be in the highest taste of visual splendor!
The big news TODAY is that you will have double the pleasure this season as Ralph has opened not one, but two exquisite mansions across the street from each other that just happen to be gender-specific.  Yes, the ladies finally have their very own home in Ralph's newest store, which opened on Friday, October 15th.  To call these retail establishments stores, seems so pedestrian, as they are really more like a grand home that you only wish you had grown up in?!
So, if you're in the Big Apple, make this a must stop for you to see. I know I will…no one quite captivates divine retail luxury shopping like Ralph!