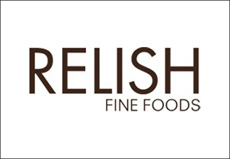 Exactly, could there really be such a thing in this fast-paced, busy world that we all live in daily, where we could actually run in, pick up some food for ourselves or our families, that's also good for us?!  Well, it is happening. This brainchild of French Culinary Institute, NY, Grad, Addie D'agostino, is just that.  This easily accessible take-out eatery is stocked full of sandwiches, salads and market sides that are all made using local, seasonal ingredients, brought in fresh daily and prepared in the simplest but most flavorful ways.
Relish Fine Foods, opened on Monday, June 27 at 3951 San Felipe, which is next door to Cotton Club and a skip away from Ouisie's Table.  It serves its sandwiches on that yummy bread from Slow Dough Bread Company. I tasted the BLT with pesto aioli and for someone like me who knows and loves their BLT's, it may have been one of the best ones I've ever eaten!  Salads are creative and loaded with lots of tasty treats that are also good for you.  Sandwiches & Salads are only available daily from 11 till 2. Market Sides that you buy by the container, such as my choice which was her Pea & Pesto salad w/whole wheat pasta and chicken, (another yum!) are available all day.  This variety would be the perfect pick-up for the busy Wife, Mom or just for yourself as a unique compliment to your planned meat or fish or as a stand alone dinner during these hot summer months when we all cherish the thought of eating lighter!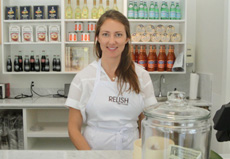 As an added treat, I must mention that Addie does come to this naturally.  The daughter of Jim and Diane D'Agostino, (Elegant Edibles ) uses her Mom's tasty pecans in her food prep of salads and some of her side dishes. She also will be selling Diane's selection of taste treats, in her eatery as well.  Great pick-ups that have not been as accessible as this writer would have liked….so I am doubly happy here.  I love take-out, particularly on these hot summer days when cooking in the kitchen is not the best option and to think I can pick up natural, organic foods is delightful to me…definitely a must try for all!
Details:
Relish Fine Foods
3951 San Felipe
Houston, TX  77027
Mon—Fri   10:00 a.m. till 7:00 p.m.
Saturdays  10:00 a.m. till 5:00 p.m.
PLEASE NOTE THIS EXTRA:  Relish Fine Foods http://www.relishhouston.com will hold a two-day grand opening event on July 11-12, 2011 and will donate 10 percent of all sales to Recipe for Success http://www.recipe4success.org.  " We're thrilled to partner with Recipe for Success," says Relish proprietor Addie D'Agostino. "Their dedication to changing the way our children understand, appreciate and eat food complements our philosophy of providing delicious, uncomplicated food made from quality ingredients."  Also, Gracie Cavnar, Founder/CEO of RFS says of their Relish connection, "The best meals are made from food picked close to its source and touched with the lightest human hand. Freshly made dishes featuring seasonal fruits and vegetables are as good as it gets."