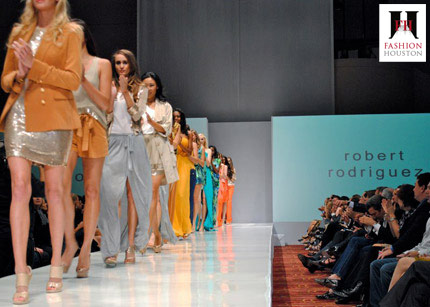 My final Fashion Houston interview was with a personal favorite of mine, Robert Rodriquez, who I feel that I have watched grow from his earliest days in his tiny booth at Coterie, the huge International NYC Contemporary Designer Show, immediately following Fashion Week.  He is now in most upscale stores and boutiques around the globe, including Neiman's, Saks, and Tootsies, locally, as well as Bergdorf's, Fred Segal, Harrod's and Holt Renfrew to name a few.
Rodriquez's popularity has grown immensely with retailers, fashion editors and trendsetters worldwide. His great contemporary styling, detailing and pricing have brought him many celebrities that have flocked in the corner of this L.A. based designer, such as Angelina Jolie, Scarlett Johansson, Nicole Kidman and Eva Longoria plus more.
ABOUT ROBERT RODRIQUEZ:  Always inspired by the great Christian Dior, he was trained at F.I.T. in NYC where he was recognized with the prestigious Critics Award for Best Designer of the Year for his beautiful and unique designs. He lived his dream by actually working at Christian Dior, where he perfected his exceptional artistry and styling skills.  He co-founded his namesake  label in 2003, showcasing his sophisticated, modern, feminine yet sexy approach to design. He has since created Black Label, a collection of evening wear and special occasion pieces. He later formed Robbi and Nikki, a more youthful interpretation of Robert's aesthetic.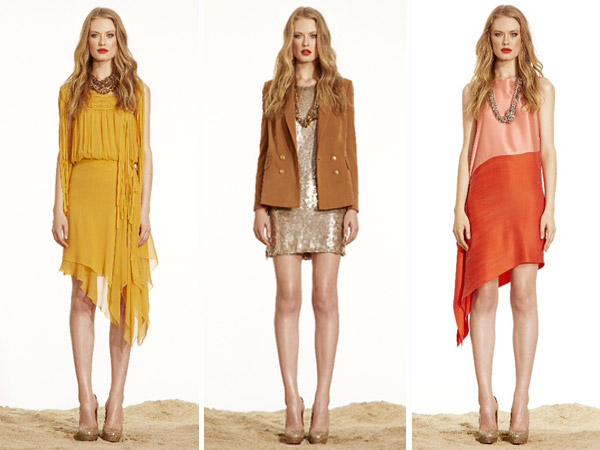 WHAT WAS SHOWN:  Robert was in town to highlight the best of two seasons.  At Fashion Houston, we were shown a capsule version of Robert's Resort Collection, arriving in stores shortly, that highlighted a tasteful approach to golden beading teamed with cinnamon (his name for a soft brown) that would be timeless pieces that could take you to all of the upcoming holiday parties.  For his reach into Spring was lots of color, most dominant in my mind was Coral, Turquoise and Yellow….colors that will be Spring/Summer 2012 must haves.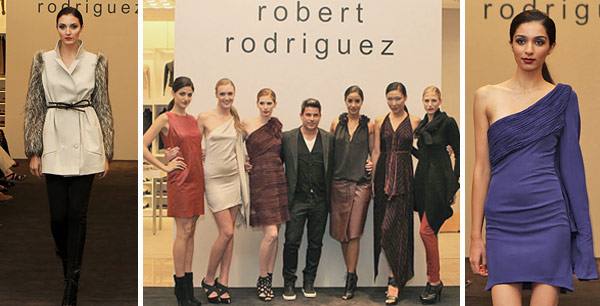 His show the day after at Neiman Marcus that was directed to his many loyal followers that were there to cheer him on, featured his very now and very modern Fall Collections (all 3 brands were included) that is on the sales floor today. There were lots of unique leather pieces partnered with feminine touches, fun fur pieces, all-over beading for day and evening, all showcasing his couture approach to master tailoring and beautiful details.  A few favorites of mine were his "leather sequined" jacket, a short cropped jacket that looked like all-over sequins until a closer look revealed that the sequins were actually made of leather.  Also, novelty jackets and sweaters, sheer feminine blouses, and great holiday dressing were included in the mix.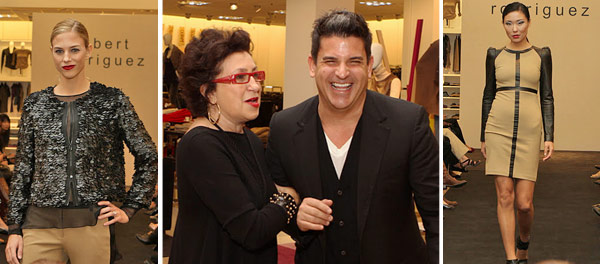 If you missed seeing Robert live, I'm sorry for that. He is a charming, knowledgeable guy who loved to interact with his customers and hear what they liked and what they wanted.  However, the good news is that his collections are in-store awaiting your perusal…stop in, you're in for a treat!
For more details:  click on www.robertrodriquezcollection.com.