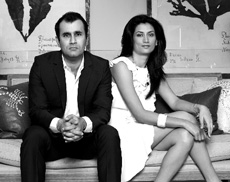 Some of you that are avid followers of all that is NEW & HIP in the Contemporary Fashion World may know of Sachin + Babi,(written up in TCS last year,loved it as soon as I saw it!), whose collection is found exclusively in Houston at Tootsies. What you may not know about this new collection, designed by married couple Sachin and Babi Abhluwalia, beginning two and a half years ago, is that behind this talented teams' first contemporary collection, comes many years of work in the couture apparel world. Their luxury home brand, ANKASA, can be found in Neiman Marcus decorative home departments.
The fine finishing details and embroideries that you see on many of their contemporary pieces are all inspired by the work they have done for such couture designers as Carolina Herrera and Oscar De La Renta to name a few.  Their concept, says Sachin developed when "my wife and partner, Babi decided to launch our own RTW brand to bring couture products to the contemporary girl."
Their family roots are both in the fashion world. Sachin's father owns factories in India and Babi knew from her early years that she was meant to be a designer. Together they work on textured materials from their Bombay factory and have created items that combine classic and chic with what is edgy and trend driven.

The big draw of this collection is that it incorporates much of the fine quality finishing and fabrics that they have been using for years and are able to develop them in India at contemporary prices.
After shopping the collection on my own on a recent trip to Tootsies, I was amazed at the uniqueness and detailed offerings in each garment.  It must be seen to be appreciated.

You will  see current styles plus more that will be brought in for the runway show for our final Dress 4 Dinner trilogy of events for RFS on May 9th from 6 till 8 pm. at the New Tootsies. You will love the special pieces and know that you are shopping a collection and meeting designers (they will both be in attendance for the RFS event), that are on the brink of exploding into stardom!
Details:
Dress 4 Dinner final event of the season for Recipe for Success
Date:
Monday, May 9, 2011
Time:
6:30 p.m. till 8:30 p.m.
Place:
Tootsies New Store

2601 Westheimer

Houston, Texas  77098

Tickets:
$50 each, available at RFS website