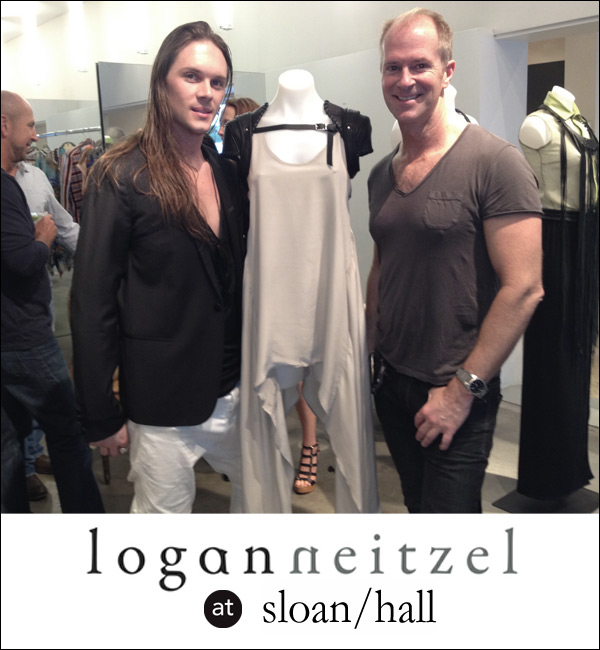 It has been noted by now that when Shannon Hall and Marcus Sloan expanded their existing space back in January and took over the Salon space next door, that they had big plans for stepping rather quietly into the fashion arena.  They are starting small and focusing on a handful of very special creative talents as is the trademark of their store.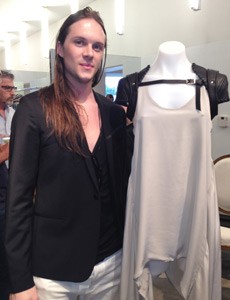 I attended my first showing at the new space a couple of weeks ago actually, when Sloan-Hall brought to Houston, Season 6 Project Runway star, Logan Neitzel, from NYC.  He brought with him extra pieces from a limited collection of very urban-inspired black leather jackets, skirts and even add-on shoulder accessories and handbags that were there for the show.  The store has bought some of his classic styles in both knit and silk that Logan referred to as "cloaks" that I could see myself living in with leggings for much of the time here in Houston. It all looked so right in his neutral color selection….. black, white, charcoal and my very fave, blush (see photo on rack)!
Sloan-Hall will be carrying Peter Pilotto of London, Irinia Arakas of New York,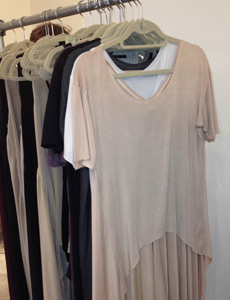 and most recently acquired the iconic French label, Balmain, to name a sampling of the limited collections you will find in-store.
Stay tuned to Chic Happenings listings on The Chic Sheet to know about the many trunk shows and personal appearances they have planned or visit their website at www.sloanhall.com.
Next on the calendar for Sloan-Hall is an appearance by Liseanne Frankfort, creator of L. Frank Fine Jewelry.  She is best known for her burnished gold and one-of-a-kind diamonds and precious stones.
San Antonio store:   Wednesday, May 16; noon till 5:00 p.m.
Houston store:         Thursday, May 17; noon till 5:00 p.m.