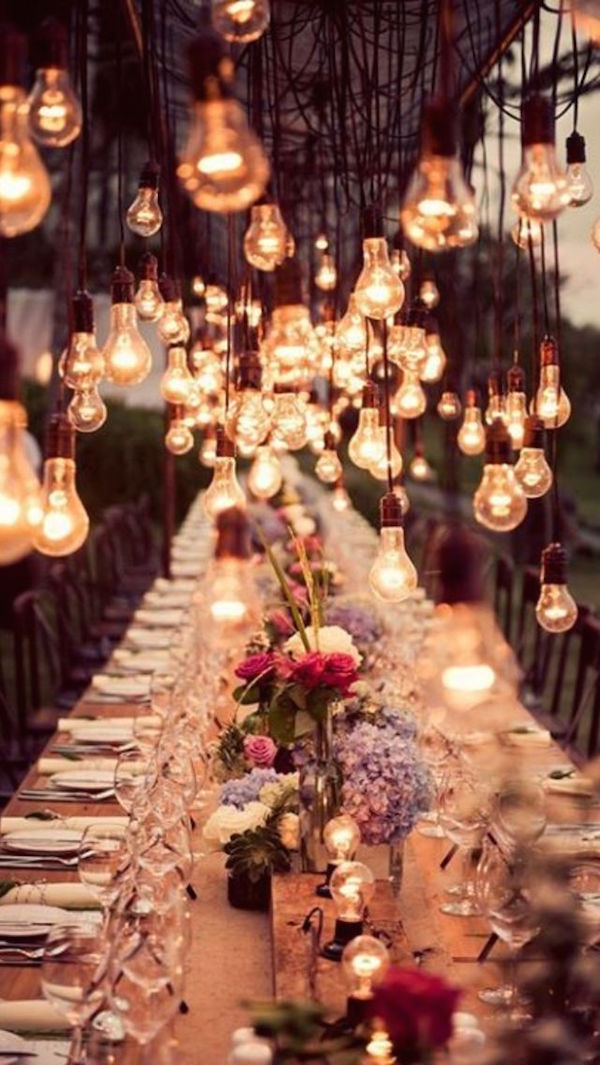 In going through some of our archives that we feel still have legs for the time we're in now, we found this story written by now contributor, Alyssa Evans but then intern for MyRedGlasses.   She picked this topic then and one that is near and dear to me as we cherish having these wonderful days and evenings of Spring and soon, Summer.  So here are Alyssa's tips on having a super entertaining experience in the months to come……..
Spring is here, and summer is right around the corner, (Can you believe it is almost Memorial Day?!).  Now is the perfect time to start planning for some fun get-togethers before it gets to be 105 degrees!  Whether dining al fresco, or if the weather is temperamental like it can be here in Houston and you bring the party inside, Spring and Summer are great for at-home entertaining.
Please read on for some great tips and fun recipes! Plus we have given you some suggestions of what we feel to be some of the best local stores in Houston to help you prep for entertaining.  They include Kuhl-Linscomb, Neiman Marcus, Events, Bering's, Manor, and of course, always Williams Sonoma and Crate and Barrel as well as Anthropologie!  All great spots to pick up some of the best looking and innovative prep and serving materials out there.
Great Decor Inspiration

Don't forget the bar cart! Whether you're hosting an event outdoors or beating the heat inside, a bar cart is a fun way to have guests create their own drinks. Set out a few juices and mixers, one or two choices for liquor and some cute glassware. Now don't leave out the non-drinkers; be sure to add some sparkling water, lemonade or other drink to appeal to everyone!
Keep the decor simple yet fun. With entertaining it is all about the conversation and delicious food. Opt for flowers that don't block people's view, but that are still fun and colorful like lilies or pink roses. If dining outside, think about using high-end plastic or melamine place settings, it is a big trend right now!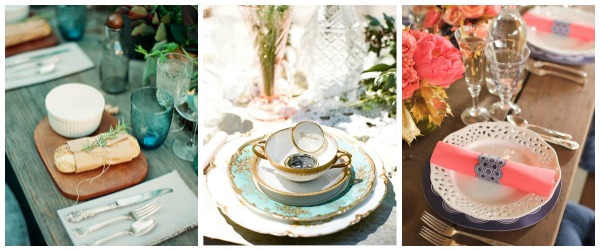 Stick with a theme. When I say theme, I do not mean Safari or Hoedown! If you are going for a rustic feel, use wood elements and natural colors, and definitely eat outside. If you want to make it upscale, use white china, gold accents, a table runner and lots of candles.
Light up your outdoor space. Rustic lightbulbs hanging over a table are SO hot for outdoor entertaining. Lighting really sets the mood, and gives a feel of comfort as a beautiful addition to your setting.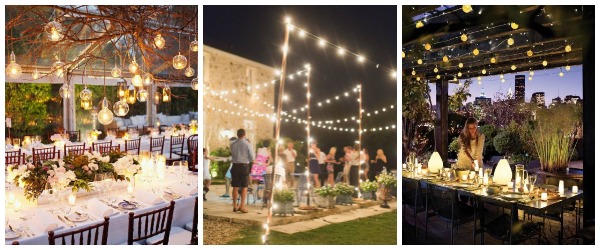 It doesn't have to be a traditional table! You can bring the indoors, out, with pillows, rugs, and even couches for seating. When dining outside it tends to get cooler once the sun goes down, so give your guests a throw or a great towel if they so desire!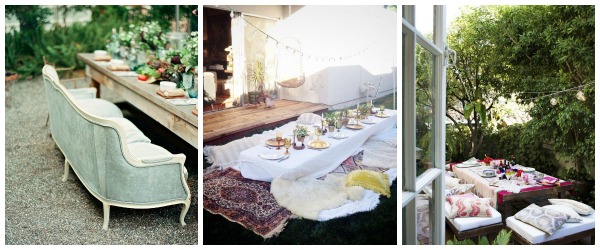 Great (Somewhat Healthy!) Recipes to Try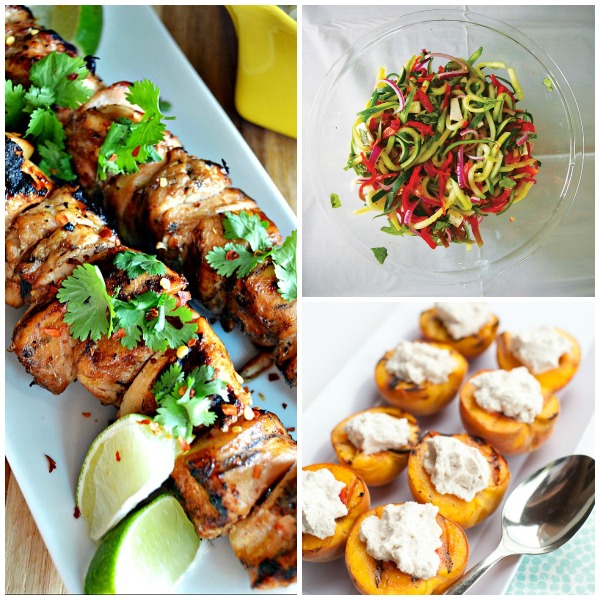 From Left: Honey-Lime Chicken Skewers, Top Right: Cucumber-Pepper Slaw, and Grilled Peaches with Cinnamon Whipped Cream
You don't want to ruin that bikini body you have been working on for so long, so these easy, healthy recipes are perfect for a Spring/Summer cookout!
However, you do have to have a little fun!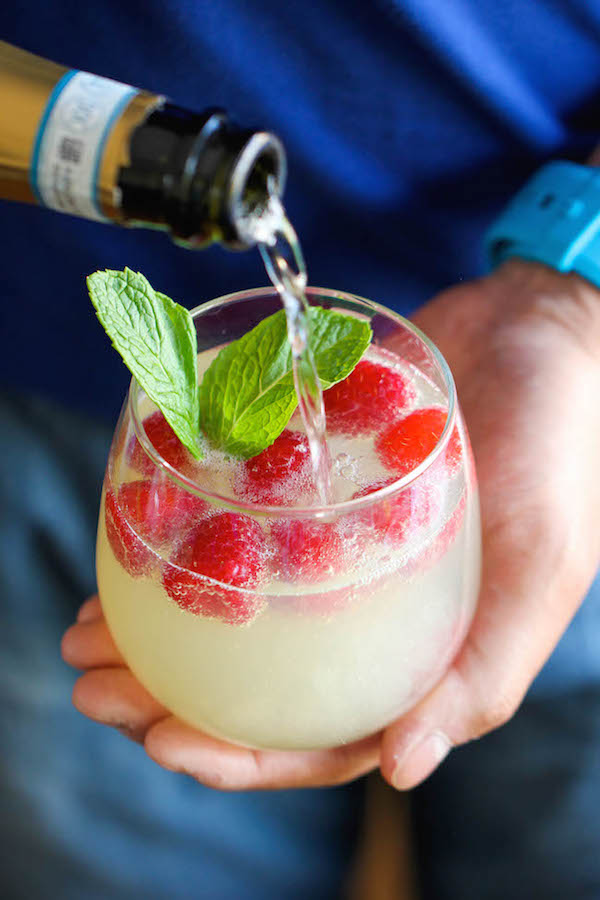 Keep cool with a light and refreshing cocktail!  (Update: keep your wine or bubbly nicely chilled by using the Vinglacé container (click here to learn more!)
3 cups prosecco, chilled
1 cup limoncello liqueur, chilled
1 cup frozen raspberries
6 sprigs fresh mint
1. In a large pitcher, whisk together prosecco and limoncello
2. Serve over raspberries, garnished with mint, if desired
If you are servings guests that do not drink, check out this AMAZING Coconut Lavender Lemonade!
Happy Entertaining!