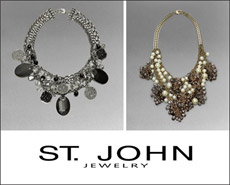 St. John Knits, which has been expanding to widen its customer appeal in its clothing has been making many progressive steps to move its brand forward,  not least of which is announcing today Ralph Toledano as newly appointed CEO. Fashion veteran, Toledano announced the company's many expansions of their website, social media and significantly, has taken another step to extend its brand…the development of a stand-alone costume jewelry collection, St. John's Jewelry, which is debuting as we speak for Fall 2011, and a Handbag collection coming for Fall 2012.
They have produced pieces for the label's runway shows and ad campaigns in the past. However, this is the first time the company is approaching jewelry as a separate division that will be sold to its retail partners.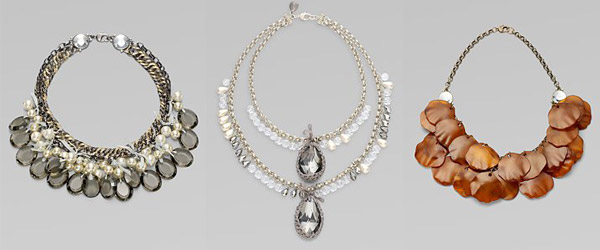 Neville Ward, whose list of former employers that he has designed jewelry for includes names such as Marc Jacobs, Oscar de la Renta, J.Crew, Anthropologie and Neiman Marcus, has been named design director.  His plans for the line includes mixing materials such as pearl, horn, resin and metal.  "That's how you keep it interesting and young," says Ward, who constantly looks back at the old for inspiration for the new.  He also feels it important to use iconic clasps and closures that will make it recognizable to the purchaser.

Prices will range from $300 to $1,000 and will be featured in all ad campaigns for the apparel as well as their own jewelry ad campaign featuring Kate Winslet. Also available on their website. http://www.sjk.com.